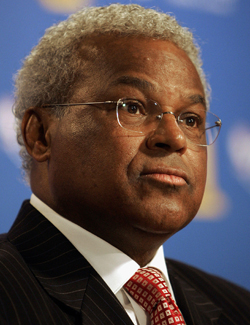 Posted by Royce Young
In the latest collective bargaining agreement proposal that was rejected last week by the NBA Players Association, included the implemenation of a hard salary cap lower than the current figure, but not to take place until the 2013-14 season
according to ESPN.com.

The new proposal, which the Players Association was reportedly very unhappy with, didn't have near the changes as expected. Instead, according to the report, were just that major changes to the CBA would now be eased in rather than implemented immediately.
The league, sources said, regards this as a major concession, since the next two seasons would employ a salary-cap system with luxury-tax penalties not unlike the system currently in place. Teams currently operate with a salary cap of $58 million per franchise, with a dollar-for-dollar luxury tax imposed for every dollar teams spend over the tax threshold of $70.3 million.

Sources said the owners' latest proposal, however, does still call for immediate rollbacks of 15 percent, 20 percent or 25 percent to current contracts depending on salary levels, as part of the league's oft-stated desire to reduce payroll by roughly $800 million leaguewide on an annual basis.

The NBA's ongoing push for such sharp salary reductions, sources said, is what caused the quick rejection from the players' side, with the union also still determined to oppose a hard cap.
The league also reportedly wants to install even lower salaries for rookies as well as making it "hugely advantageous" to remain with the teams that drafted them.
The new offer would allow teams to offer longer and more valuable contracts to players that remain with their teams instead of taking their talents somewhere else. Obviously this is a response to the Chris Bosh, LeBron James, Carmelo Anthony, Deron Williams and Dwight Howard situations. A reasonable idea, considering the mess fans and players have had to endure once their contract's expiration date even appears on the horizon.
There has been some solid progress on the non-lockout front lately, with a report from ESPN.com saying that union executive director Billy Hunter and David Stern were meeting face-to-face on a regular basis recently. That, combined with the ruling in the NFL lockout as well as the positive momentum in the game suggests that a deal is becoming more and more likely. The latest offer was rejected, but still optimism is increasing that a new deal will be signed by both signed before the June 30 deadline.