Bulls look to close out the Hawks in Game 6.Posted by Matt Moore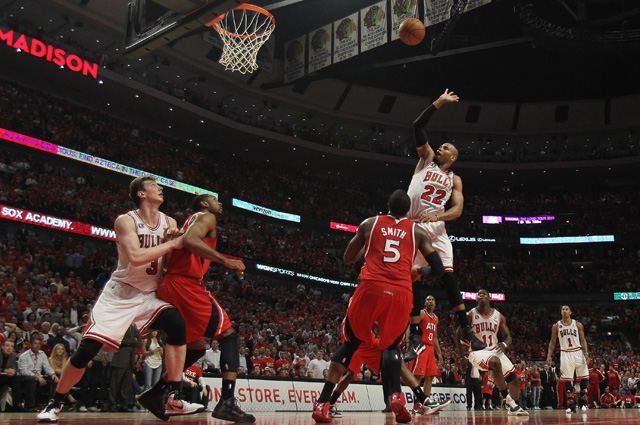 One Big Thing:
If the Hawks want to stave off elimination and force a Game 7,
Jamal Crawford
is going to have to get loose. The Hawks' offense is about 25% ISO against the Bulls, and it's pretty high normally. The Hawks just love the feel of a crossover, step-back jumper. But in an elimination game, the Hawks can't afford to squander possessions. Every possession has to be valued, cherished. And that means getting Crawford involved, and it should be off-ball movement that does that. Getting Crawford open looks will cause the Bulls' defense to shift. That'll open up the inside for Horford and Smith, which will create more spacing for
Joe Johnson
when he goes into isolation, instead of dribbling into multiple defenders. Everything opens up. But it's got to start with Crawford. The Bulls have done a great job of keying in on Crawford as this series has gone on. If they contain him for one more game, it may be enough to make their way to meet the
Heat
.
The X-Factor:
The Bench Mob for Chicago mixed with the starters at the end of Game 5, and they were the difference. The Bulls, surprisingly, have a very capable bench unit, and it's been doing damage in this series. If
Omer Asik
,
Taj Gibson
,
Ronnie Brewer
,
C.J. Watson
and
Kyle Korver
can make an impact, the Hawks won't be able to counter, not with Teague having to start. It's a huge advantage for the Bulls. Can they keep up this kind of surprising play? With the defense anchoring them, it looks good for the Bench Mob to make an appearance in Game 6.
The Adjustment:
The Hawks were making a comeback by putting the ball in
Jeff Teague
's hands. They stopped doing that. They stopped making a comeback. Teague needs to be the focal point of the offense with how he's playing right now. He doesn't have to take all the shots, but his drive and kick abilities force the Bulls' defense to react instead of just waiting for the Hawks to dribble into them. The Hawks need to trust the young point guard and let him get them opportunities. Trying to do it on their own won't fly.
The Sticking Point:
Chicago is a much better team. It honestly should not have gone this many games, given how talented and capable Chicago is. It took a run from Omer Asik and Taj Gibson to close out Game 5 at home, for crying out loud. Credit the Hawks' effort. Had the coaching been better, this may have gone differently. But this is a close-out game the Bulls know they need with the Heat starting to get their rest.
Derrick Rose
will be in close-out mode. The Hawks have shown us a tougher version of themselves mentally than we're used to seeing this postseason. They're going to have to come out with an even more impressive to push this thing back to Chicago and give themselves another chance.