Washington Wizards owner Ted Leonsis does not support lapdance Tuesdays. Posted by Ben Golliver.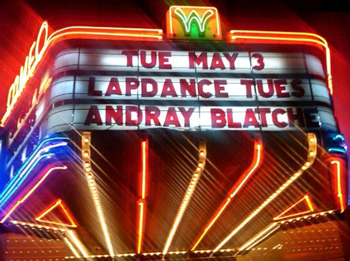 A few weeks back,
Yahoo! Sports noted
that Washington Wizards forward
Andray Blatche
was hosting "Lapdance Tuesdays" at a Miami Beach club. Yes, seriously. He was even
street-teaming the event on Twitter
.
Blatche, of course, is the knucklehead forward who once was busted for soliciting a prostitute,
got into a fight
with center
JaVale McGee
on Christmas Eve and recently
took to the radio
to blast Wizards fans during another pathetic season.
The Wizards, meanwhile, are in the process of a wholesale reputation re-alignment under new owner Ted Leonsis. The team drafted
John Wall
, dumped
Gilbert Arenas
in trade and recently
unveiled new uniforms
, all in the name of a fresh start and improving fan relations.
Clearly, then, Lapdance Tuesday wasn't something Leonsis could let slide by without a comment.
And, by the standards governing owner on player rebukes, he let Blatche have it. In
comments made to 106.7 The Fan
and
transcribed by BulletsForever.com
, Leonsis took a hard line.
"The Wizards being associated with that is unacceptable. We made sure we got that taken down. We're not happy with that, and neither is he. The way those things tend to happen are not well understood. Sometimes celebrities get an appearance fee, and someone goes and markets them. Andray is a very gifted player, and we know this is a very important summer for him. He needs to come back and be in unbelievable shape with unbelievable determination, because he needs to prove he's a really, really good player and that he can win. He gets it. The proof will be in the pudding, but he understands it."
That was an excellent statement by Leonsis -- pitch perfect -- right up until the words "He gets it." There's absolutely no way Blatche gets it. He was just hoping to make a little extra money and not get caught.
Even if Leonsis sees Blatche for what he is -- and the guess is he probably does -- his hands are tied as Blatche was signed to a lengthy extension that keeps him a Wizard until 2014-2015. So, for the sake of salvaging Blatche's nonexistent trade value, Leonsis has no choice but to continue pretending that Blatche gets it.