Memphis Grizzlies owner Michael Heisley says the team has no plans to move forward Rudy Gay. Posted by Ben Golliver.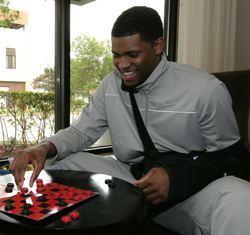 After an unexpected and tantalizing run to the Western Conference semifinals, the Memphis Grizzlies were finally eliminated by the Oklahoma City
Thunder
in Game 7 on Sunday night. Most remarkable about Memphis' run is that it occurred without injured forward Rudy Gay, who was lost to a midseason shoulder injury.
That Memphis could not only continue to keep pace without Gay but actually win at a better clip -- the Grizzlies were 30-24 with Gay, 16-10 without him -- had led some to wonder whether they might be better off moving him to acquire multiple assets.
On Tuesday,
the Memphis Commercial-Appeal reported
that Grizzlies owner Michael Heisley shot down this idea.
Heisley emphatically put to rest rumors that he would be interested in dealing Gay this summer. "He is definitely a major part of this organization's future," Heisley said. "We have no plans whatsoever to trade him."
Heisley went on to say that Gay was missed during the series against the Oklahoma City Thunder and that, with him in place, the Grizzlies might have advanced to the Western Conferece finals.
If the Griz weren't the league's fourth-worst 3-point shooting team and had Gay then "it would have turned out differently," insisted Heisley.
The Grizzlies have locked Gay,
Mike Conley
and
Zach Randolph
into expensive long-term contracts and will need to pay big to keep center
Marc Gasol
, who is a restricted free agent, this summer. That's where a lot of the trade chatter is coming from: a base-level skepticism that a small market team will commit a huge chunk of change to four different players over multiple years.
The other cause for these rumors is the renewed play of Randolph, who embraced the No. 1 option role during the playoff stretch, playing arguably the best basketball of his career. Both Gay (16.1 per game) and Randolph (15.8 per game) need their shots, and there's some question whether they are an ideal match as a 1-2 option.
In the immediate future, the Grizzlies would be foolish to break up their core four, a well-balanced group that offers rebounding, low-post scoring, perimeter scoring and leadership. If a roster piece is expendable, it's guard
O.J. Mayo
who, indeed, was almost traded at the deadline.
With the San Antonio
Spurs
and Los Angeles
Lakers
falling by the wayside a bit, and a bunch of key Dallas
Mavericks
getting closer to retirement by the day, the Grizzlies are well-positioned to be a player in the Western Conference playoffs for the next three or four seasons. Sure, it will cost Heisley tens of millions of dollars to keep Randolph, Gay, Conley and Gasol, but I suspect the thrill of defeating the Spurs in the first round was priceless.