Boston Celtics coach Doc Rivers is set to undergo throat surgery. Posted by Ben Golliver.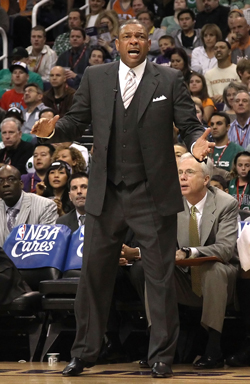 What a week for Boston Celtics coach Doc Rivers. First, he
signs a five-year contract extension
for a price, $35 million, that could take your breath away.
Then, Rivers is set to undergo throat surgery on Tuesday to remove a growth, a procedure that will temporarily take away his voice, reports
the
Boston Herald.
Doc Rivers will have surgery today to remove a non-cancerous growth from his throat, and he won't be able to talk for two weeks.

"My wife will be the happiest person in the room about that," the Celtics [team stats] coach said after arriving in Boston, now his professional home for at least another five years thanks to the $35 million contract extension he signed yesterday.
Other than the temporary voice loss, it sounds like everything will be A-OK for Rivers.
That's great news, because
ESPNBoston.com reports
that the surgery marks the end of a somewhat scary episode for Rivers, who had a biopsy on his throat all the way back in October.
After those test results initially came back negative, Rivers joked about the scare.

"I'm going to be around for a little while, it looks like," Rivers said in October. "I'm sure that disappoints everyone."
Rivers just completed his seventh year as coach of the Celtics. His career coaching record is 507-406.