Cleveland Cavaliers win No.1 overall pick in 2011 NBA Draft. Utah Jazz move up to No. 3. Posted by Matt Moore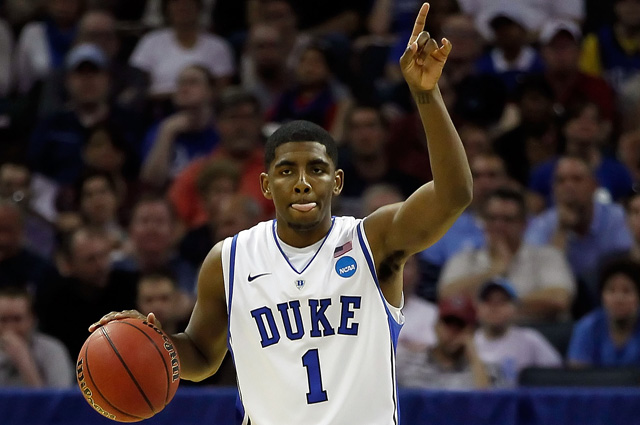 The Cleveland Cavaliers won the 2011 NBA lottery, giving them a chance to move forward. The Minnesota
Timberwolves
managed not to fall out of the top three, landing at No.2, while the Utah Jazz jumped up to the No.3 spot. So two teams that lost their superstar in the past 12 months get a chance to start over in a top-heavy, shallow draft. The big losers are the
Raptors
,
Wizards
, and
Kings
who drop down significantly.
The question has to start right now, where is
Baron Davis
going to play next year? Kyrie Irving is the consensus No.1 overall pick, and the piece to build around for the Cavs. Meanwhile, the Wolves have a big man cluster to deal with, as Derrick Williams will be on the board for a team with
Kevin Love
,
Darko Milicic
, and Wes Johnson brought in in the past two years.
Lots of questions. We'll have an updated mock draft soon on CBSSports.com.
1. Cleveland Cavaliers
2. Minnesota Timberwolves
3. Utah Jazz
4. Cleveland Cavaliers
5. Toronto Raptors
6. Washington Wizards
7. Sacramento Kings
8. Detroit
Pistons
9. Charlotte
Bobcats
10. Milwaukee
Bucks
11. Golden State
Warriors
12. Utah Jazz
13. Phoenix
Suns
14. Houston
Rockets
15. Indiana
Pacers
16. Philadelphia
76ers
17. New York
Knicks
18. Washington Wizards
19. Charlotte Bobcats
20. Minnesota Timberwolves
21. Portland
Trail Blazers
22. Denver
Nuggets
23. Houston Rockets
24. Oklahoma City
Thunder
25. Boston
Celtics
26. Dallas
Mavericks
27. New Jersey
Nets
28. Chicago
Bulls
29. San Antonio
Spurs
30. Chicago Bulls