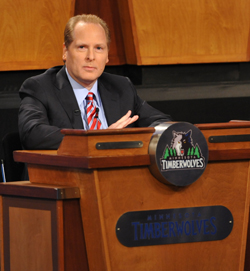 Posted by Royce Young
When he's not making fairly dumb comments,
Timberwolves
general manager David Kahn has always been one up for a trade. He's always willing to take a risk and move some parts.
In the lottery last night, with the best chance of any team, the Wolves finished with the second overall pick in a draft most feel like is a one player draft. There's talent to be had no doubt -- Derrick Williams, Kemba Walker, Enes Kanter, Bismack Biyombo -- but there's not necessarily a sure thing.
And according to ESPN.com,
the Wolves are wide open to moving the No. 2 overall pick. The word is, Kahn is very much interested in adding veteran help to the team.
Is this a good idea? Well, I guess. Hard to say really. With the history the Wolves have in the draft of missing on players, taking guys that don't want to be with the team and just outright mis-evaluating, it makes sense to just get out and get a proven commodity. However, it's unlikely you'll get equal talent back.
Potential
talent, I should say.
There's good reason to believe that Williams, Biyombo, Walker, Kanter or whoever could be the next big thing. They could be the next 10-time All-Star. You've got to do your homework, scout the heck out of them and go with your gut. Thus far, Kahn's has been mostly wrong. (Though Wes Johnson might not be a total disaster.)
In a backwards way, Kahn has a point because there's not a whole lot of open roster space on his team right now. That's silly, I realize, for a team that just went 17-65, but with the way he's accumulated talent, if you draft a young player, where does he play? Ironically, the most open place on the roster might actually be point guard. How about that one?
Right now, between Johnson,
Michael Beasley
,
Anthony Randolph
,
Kevin Love
and, well,
Darko Milicic
the Wolves don't have a ton of space to just pop in another young player that needs time to develop. Minnesota has plenty of those. The wrong ones most likely, but still, not a ton of space for playing time.
Depending on what's available, the Wolves could certainly use some veteran help to take a little pressure off their young players. Development is what all of this is about and I'm not sure how well the Wolves are developing young players like
Jonny Flynn
, Johnson and Randolph. Bringing in a veteran player that's actually talented enough to play might not be a bad idea.