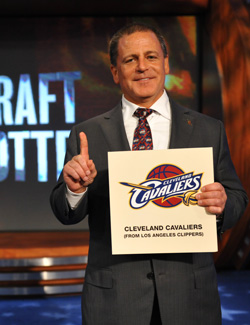 The Clippers' pick won the lottery, but won't be going to L.A.. Could the Clippers have avoided surrendering the No.1 overall pick to Cleveland?Posted by Matt Moore
So the Clippers' would have had the No. 1 overall pick in the NBA draft, giving them a devastating combo of
Blake Griffin
and Kyrie Irving going forward, had they not traded it to the Cleveland
Cavaliers
for
Mo Williams
and to get out from
Baron Davis
' contract (in exchange for Mo Williams' contract). Except they wouldn't have, because that trade altered the Clippers season and landed them in the spot that gave Cleveland the No.1 overall. There was no way for the Clippers to know that they would have landed the top spot had they held on to the pick. But they did know it was possible, knowing they were lottery bound. So why didn't they top-three protect the pick, as is done so often in the NBA?
Clippers' GM Neil Olshey told NBA.com:
"Protecting the pick was never an option," L.A. general manager Neil Olshey told NBA.com. "There is no way to Monday morning quarterback this since our draft position wouldn't have been the same had we not made the deal as I'm sure we would not have finished 11-11 post-trade without Mo Williams."

Additionally, we had a 97-percent chance of sitting here tonight with Baron Davis taking up 25 percent of our cap, the eighth pick in a weak draft and no cap flexibility. Adding Mo Williams and $8.5 million in cap room gave us a better opportunity to become a playoff team next year than adding a seventh player under 23 with no NBA experience."
via
No Regrets For Clippers « NBA.com | Hang Time Blog
.
When the lottery balls came up Cleveland last night, Olshey must have had a Charlie-Brown moment. "Good grief." It's true that the Clippers had no way of knowing they'd wind up in the top spot, and it's nearly certain that had L.A. not made the trade, they wouldn't have winded up in the lottery spot that gave Cleveland the pick. But at the same time, Cleveland's 2012 pick goes to the
Celtics
. The Clippers' best bet is to build around Blake Griffin with
young
talent. Mo Williams and
Chris Kaman
do not constitute as such. Even with Eric Bledose a promising young point guard, the Clippers need as much talent as they can get. Top 3 protecting that pick would have gotten them the best of both worlds, the cap relief they so desired,
and
that pick. Protecting the pick is something that happens in trades nearly every time, specifically to prevent this situation. Olshey's right that the Clippers received more in value than they gave up in the trade... at the time of the trade. But that won't help the continuing perception, despite Blake Griffin's brilliance, that the Clippers are still the Clippers, prone to do Clipper things.