Miami Heat forwards Udonis Haslem and LeBron James combined to put away the Chicago Bulls in Game 2 of the Eastern Conference finals. Posted by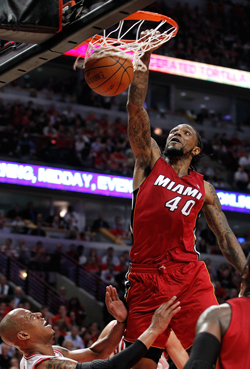 Ben Golliver.
In Game 1 of the Eastern Conference finals, the Miami Heat had zero answers for the Chicago Bulls in the second half. In Game 2, they had two: a likely suspect and a pleasant surprise.
With the game tied at 73-73 with a little over four minutes to play in the final period, Heat forward LeBron James scored nine points in a little over three minutes to send Miami to an 85-75 victory, and even the series at 1-1.
James' burst wasn't unlike the 10-point run he used to close out the Boston
Celtics
in the Eastern Conference semifinals, in that he visibly gained confidence after hitting a three-pointer, instantly switching into attack mode. Two perimeter jumpers and another one close in from James pushed Miami out of Chicago's reach, as the Bulls were unable to execute offensively down the stretch, scoring just two points in the final 7:15 of the fourth quarter.
Even after that run, and a 29-point, 10-rebound, 5-assist, 3-steal box score line, James wasn't in the mood to take the credit. Instead, he singled out reserve forward Udonis Haslem.
"He definitely gets the game ball tonight," James said in a post-game interview. "He came in with his energy and effort rebounding, finishing plays around the basket, made some shots when they were making a run in the third quarter that really helped us."
Because of a long-term absence due to a foot injury, Haslem's contributions this season have been far more of the off-court leadership and heart variety rather than the
on-court muscle that he's known for
. Prior to Game 2, Haslem had played just six minutes combined in the playoffs, including four minutes of garbage time at the end of Game 1.
Wednesday night was a different story, though, as Haslem clocked 23 huge minutes off the bench. If he looked winded at times, understand that was the most minutes he had played since Nov. 19, 2010, nearly six months ago.
There was a look in his eye," Heat coach Erik Spoelstra
told the Associated Press
. "I knew it was time."
In Game 1, Chicago's bench mob ran rampant. In Game 2, they were neutralized by Haslem's energy and paint presence. Fatigued or not, Haslem was everywhere, particularly in the third quarter. On Sunday, Miami looked flat and out of sync to start the second half, and that was clearly their undoing. On Wednesday, Haslem was more than enough spark to make the difference, combining two highlight reel dunks, a mid-range jumper, five rebounds and a blocked shot to provide Miami's biggest bench contribution since
James Jones
went off in Game 1 of the semifinals against Boston
. He finished with 13 points.
No play was bigger than this dunk in transition, in which he powered up and over Bulls point guard
Derrick Rose
in transition, only to land softly into a reverse somersault.
Want a quick laugh? Try to imagine any other Heat reserve making that play.
With Chicago's offense on life support for most of the game -- Rose needed 23 shots to score 21 points, the Bulls shot 3-20 from deep as a team,
the Chicago Tribune reports
the Bulls scored a franchise-low 10 points in the fourth quarter -- the Heat didn't need the full fury that James and
Dwyane Wade
are capable of delivering.
Instead, the James / Haslem one-two punch was more than enough to send Chicago reeling into Sunday's Game 3 in Miami.