The mother of Shaquille O'Neal believes her son will not retire and will play for the Boston Celtics next season. Posted by Ben Golliver.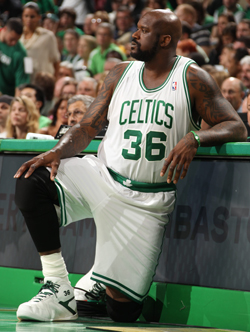 Shaquille O'Neal was the Big Disappointment rather than the Big Diesel for the Boston Celtics this season. At 39 years old, O'Neal simply couldn't get healthy or stay healthy for the Celtics, who bowed out in the Eastern Conference semifinals.
Anyone who watched an out-of-shape O'Neal laboring up and down the court -- able to play just 17 minutes combined since Feb. 1 -- couldn't help but conclude this was the end of the road for the future first ballot Hall of Famer. O'Neal has been in a steady decline, posting career-lows in points (9.2) and rebounds (4.8) in 2010-2011, and that trend isn't like to reverse.
Of course, there's the matter of his contract. O'Neal has a player option for $1.4 million next season. While the Celtics aren't sure whether or not he will return, O'Neal mother, Lucille,
told the New Orleans Times-Picayune
that she thinks he will give it another go.
"He went there to help them win a championship, and they didn't do that this year,'' Lucille said. "It bothered him so much that he could not play. He felt like he let the Boston team down and the community down, so I could believe he's going back to Boston. He's not in a place to be traded or anything like that.''

Lucille added O'Neal hasn't indicated to her what he plans to do.

"I don't know because Shaquille has got such passion for the game,'' Lucille said. "(Retirement) we've always told him that's up to him. Whatever decision he makes, we're still going to be behind him 100 percent.''
The worst case scenario for next season is ... welll... it would look a lot like this season. A string of injuries, a bunch of charitable donations and a larger-than-life personality that's great for the game as a whole. That's not too bad but it doesn't do much for Boston's title dreams.
A best case scenario? The Celtics manage his minutes better, he drops a ton of weight and he can be an impact player during a playoff run. That'd be awesome, but don't hold your breath.