Projected No. 1 draft pick Kyrie Irving will not participate in the NBA combine workouts. Posted by Ben Golliver.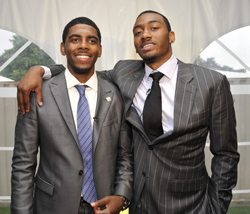 Projected No. 1 NBA draft pick Kyrie Irving is seemingly everywhere. He sat courtside for
Celtics
/Heat in Miami. He was backstage at the NBA Draft Lottery. He was in attendance at
Heat
/Bulls in Chicago.
One place Irving won't be? On the court doing workouts at the NBA Pre-Draft Combine in Chicago.
Following in a long line of top draft picks,
the Cleveland Plain-Dealer reports
that Irving has decided to participate in the interview and medical testing processes of the combine but not in the on-court workouts.
NBADraft.Net tweets
: "Kyrie Irving feels that he's a lock for the first pick and has 'nothing to prove' and will skip the combine athleticism testing."
NBA scouts and media analysts will whine and grumble any time a player doesn't participate in the workouts. Indeed,
NBADraft.Net later noted
that Irving should prove that "he's back to full health and athletic enough to be the first pick after returning a step slow in the tourney?" Irving, of course, missed much of his freshman season at Duke due to a foot injury.
Everyone wants to see top talent compete but this is a no-brainer decision for a player in Irving's position. I'd love nothing more than to watch a televised one-hour workout session starring Irving and a bunch of defenseless orange cones. I can't possibly think of a better appetizer to the Western Conference finals.
But Irving, as the consensus top pick, has all the leverage. He's no flash in the pan: As a top high school prospect, the teams at the top of the board have been tracking him for years and he will also have the chance to work out individually for the top two or three teams in the draft. With all signs pointing to the Cleveland
Cavaliers
selecting Irving at No. 1, he not only does he have nothing to prove, he has nothing to gain.
The less than one percent chance of injury simply makes the combine workouts not worth it for someone in his position.