Udonis Haslem was the difference maker in Game 2 for the Heat, and it wasn't just in the ways you noticed or would expect. Posted by Matt Moore
When coach Eric Spoelstra elected not to change his roster actives for Game 2, we were... less than impressed. How were the Heat going to manage to mitigate the huge rebounding advantage with the same roster? What of course we weren't counting on was Udonis Haslem rising from Spoelstra's training table like Frankenstein and destroying the
Bulls
like
Taj Gibson
did in Game 1. It wasn't just the kinds of plays you'd expect from Haslem in terms of rebounds and defense, though.
Haslem made smart veteran plays
... you know, the kinds of plays the Heat were counting on from Haslem all year prior to his injury.
Check it out.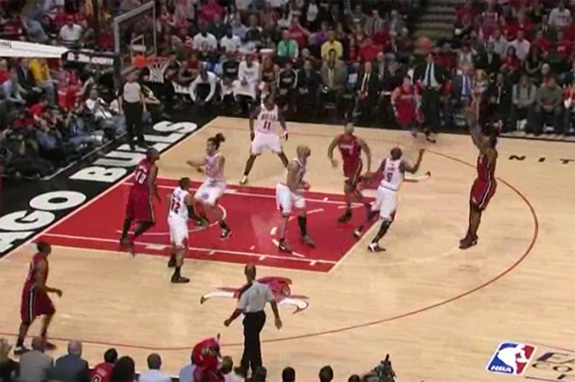 Here in the first half, James takes a pull-up jumper from the top of the arc. In a great example of how the bounces literally went Miami's way, the rebound doesn't carom straight backwards, where Noah is (left center), but instead bounces to the left.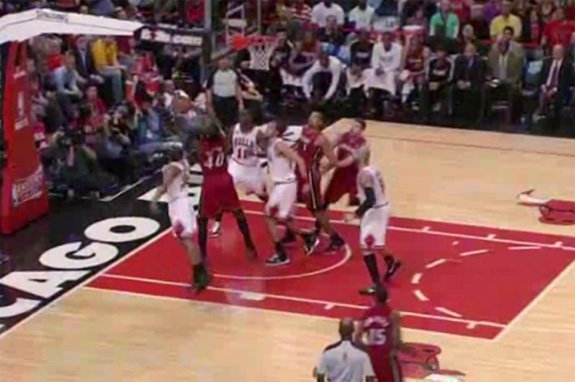 Haslem manages to make the grab while Noah's still blocking out the weak side.
Carlos Boozer
's doing approximately what you'd expect him to be doing. Nothing.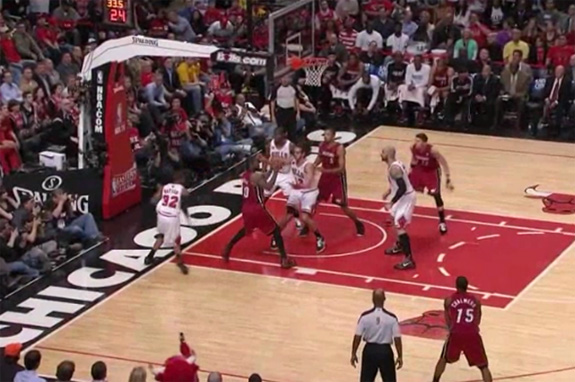 Haslem lands, and whereas
Joel Anthony
and his stone hands have a high probability of losing the handle on an attempted pass or gather, or even Dampier or Ilgauskas who would immediately attempt to tap the ball in over Noah's length, Haslem manages to move the ball down and sideways. Yes, you're never supposed to bring the ball back down in such a situation, but with the Bulls' length and ability to challenge, it's not a bad idea. Especially when you consider that there are four Bulls within a foot of Haslem and their backs are all facing the perimeter. Boy, I hope there's not a hyper-athletic superstar with incredible explosion hanging out after he just took a jumper.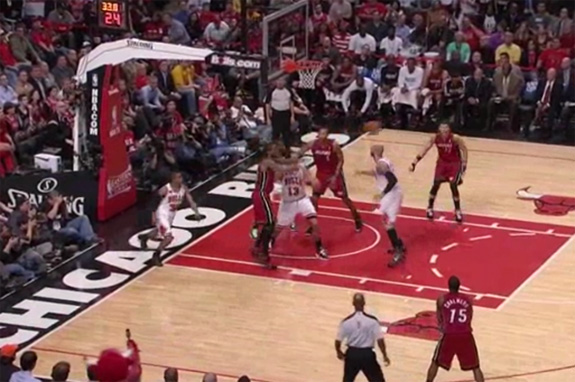 Because, you see, with Boozer just now starting to close on Haslem, and the Ball whizzing literally right by his head, that would mean that such a 6-8, 285 lb. freight train would have a clear shot at the lane to capitalize on Haslem's savvy play.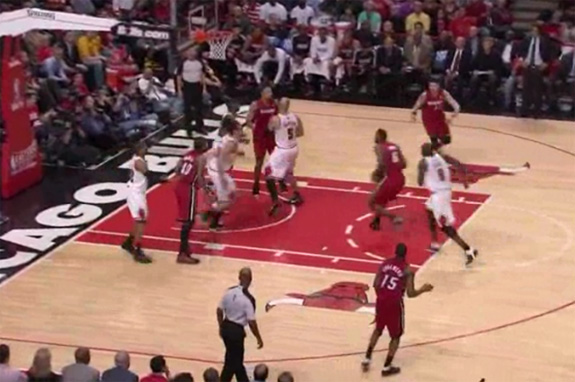 Oh, yeah,
LeBron James
.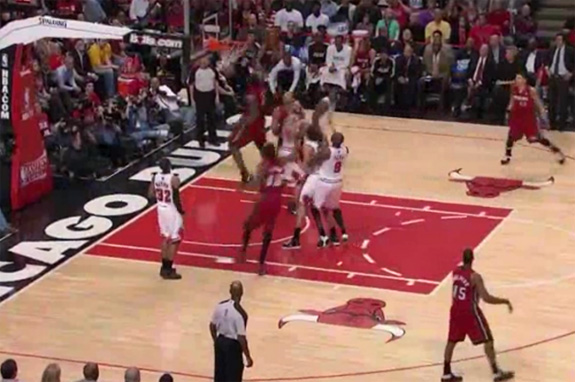 Whoops.
But it wasn't just there that Haslem did work. Controlling the glass was a problem for the Heat, but while the Bulls still ratcheted up 17 offensive boards, the majority came in the first half, and the percentage was much lower in Game 2. In particular, Taj Gibson wasn't a demon on both ends for the Bulls.
Taj Gibson was a monster in that game, making all the key plays and adding 3 offensive rebounds among his seven total. In Game 2, Gibson had 1 offensive rebound, making his rebound total... 1. Haslem was partly why. Here's an example.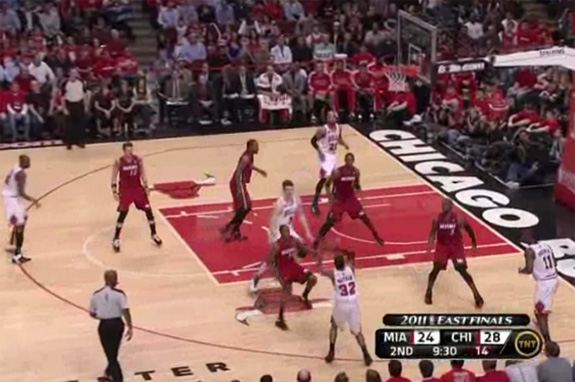 C.J. Watson
takes a three here in the second. It's deep enough that there's a pretty solid chance the rebound's going to go wide to the left side of the basket, where Taj Gibson's waiting to collect. Haslem comes in helping off of Asik and identifies the angle. He's gonig to have to get between Gibson and the rim without already having position.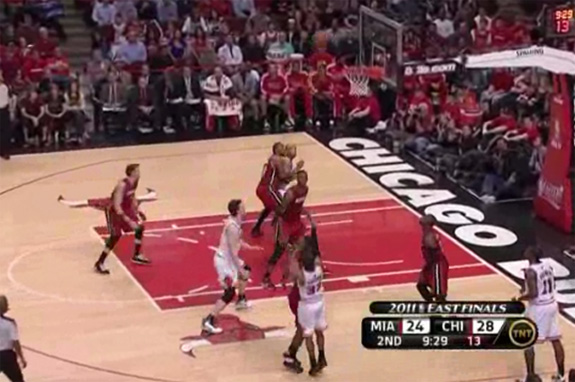 Haslem makes contact to put a body on him, and let's face it, this looks like a hug. The initial bump to Gibson's right side moves him just to the side enough to allow Haslem to slide in between him and the rim as the rebound comes off.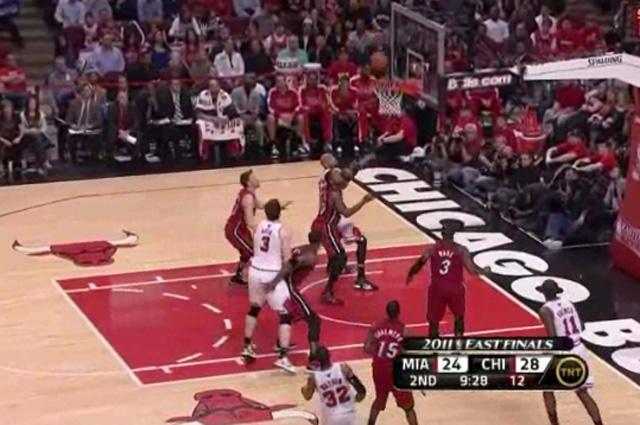 Haslem slides off of Gibson's right side to where he's parallel to Gibson, both players facing the baseline.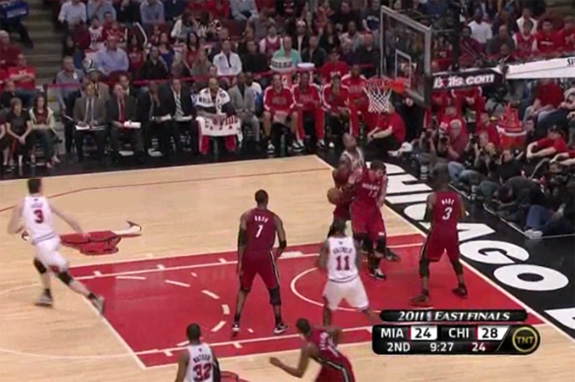 Haslem turns, slipping under and up Gibson's right side, avoiding a foul call, and snares the rebound, immediately securing it low as opposed to keeping it high as the other Heat centers would be more likely to do.
Haslem was the biggest difference maker in Game 2. Spoelstra relied on him heavily, playing him nearly to the bone. His conditioning will be tested in Game 3, but with three days rest, that may be enough time for him to recover. While the Heat may not have a player with enough size to keep the Bulls off the glass, they have a player they can count on to outsmart the Bulls' raw athleticism off the bench, giving more opportunities for the Big 3 to be the deciders in the game.