The Atlanta Hawks are reportedly the next NBA team up for sale. Posted by Ben Golliver.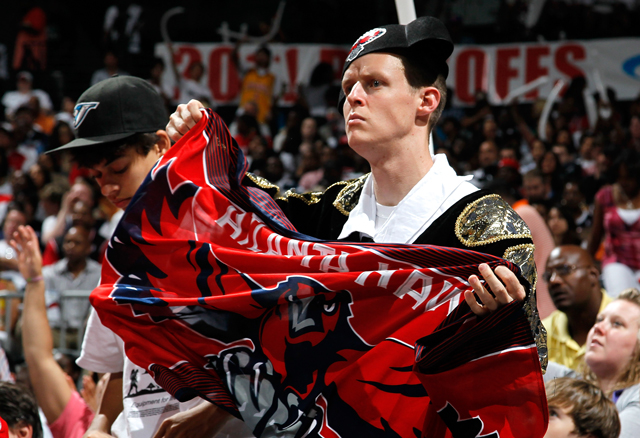 After the NBA's takeover of the New Orleans
Hornets
, the successful sale of the Detroit
Pistons
and the near relocation of the Sacramento
Kings
, another franchise has emerged as potentially being on the selling block.
The
Atlanta Journal-Constitution
reports that the Atlanta Spirit ownership group are considering selling both the NHL's Atlanta Thrashes and the Atlanta Hawks.
The Spirit, in the process of negotiating a deal that would send the hockey team to Winnipeg, also is in talks about a possible separate sale of the basketball Hawks, who would remain in Atlanta.

Two people familiar with the situation, both of whom asked not to be identified because of the ongoing talks, told The Atlanta Journal-Constitution that the Spirit and outgoing San Diego Padres owner John Moores are in an exclusive negotiating period regarding the Hawks and the Philips Arena operating rights. Both people said a deal is not close and that it's far from assured one will get done.

The exclusive negotiating period means the owners agreed not to pursue the sale of the Hawks to any other prospective purchaser for a prescribed period of time. It is not known when Moores' exclusivity expires.
Forbes.com recently ranked
the Hawks as the 23rd most valuable NBA team, valuing the Hawks at $295 million. The valuation noted that a recent refinancing of the Philips Arena stadium debt helped the Spirt group deal with "hefty losses."
The Atlanta Spirit, the partnership that owns the Hawks, NHL's Thrashers and operating rights to Philips Arena, refinanced the $123 million of debt remaining (the original principal was $130 million) on the building prior to the start of the 2010-11 season. The net effect of the new bond sale is that the Hawks franchise is no longer collateral for the Atlanta Spirit's debt obligations on the arena. The means the team is more portable then it was prior to refinancing and its owners can tap into the NBA's credit facility. Prior to the refinancing the Hawks were the only NBA team not eligible for the league's credit facility. This helped the owners, who have been funding their hefty losses with cash infusions, borrow $125 million from the credit facility in December.
A key issue facing the franchise has been indiferent fan support. Despite playing in a major market and making the playoffs for the last four years, the Hawks have just the 22nd best home attendance in the NBA, averaging less than 16,000 fans per game in a stadium equipped to hold nearly 19,000.
Also worth noting:
CBSSports.com's Eye on Hockey Blog reported
Thursday night that a completed Thrashers sale is "at best premature."