Mark Cuban decides to be the bigger man and refrains from criticizing the officials after Game 2 loss. Just kidding, that's exactly what he did. Posted by Matt Moore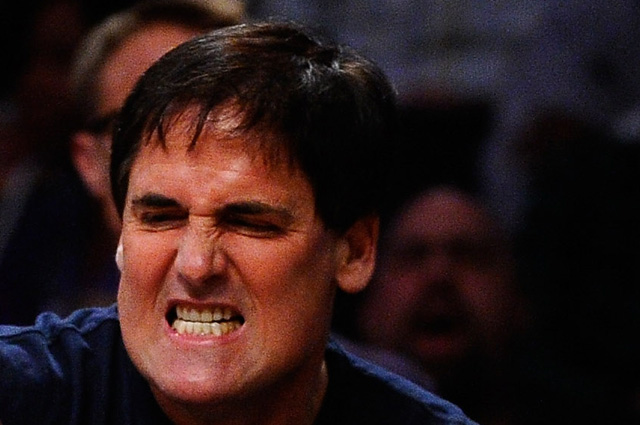 Mark Cuban's been a lot quieter during the playoffs this year. Mostly because his team's been winning a lot. But lest you think that the timeless tradition of the Mavs' owner complaining about officiating has gone the way of the dinosaur, we bring you an exchange from after Game 2 of
Thunder
-Mavericks, via ESPN:
While walking off the court, Cuban loudly asked officiating supervisor Bernie Fryer what he thought of the performance of referees Greg Willard, Bill Spooner and Tom Washington.

A longtime NBA referee who was seated behind press row at the American Airlines Center, Fryer told Cuban that he thought Thursday night's crew had been "great" in the first half.

"Are you kidding me?" Cuban replied. "You're not watching the same game I am."

Cuban complained about moving screens and defensive three-second violations by the Thunder that he felt should have been called, among other things.

"Horrible," Cuban said.
via
2011 NBA playoffs: Dallas
Mavericks
owner Mark Cuban voices displeasure over Game 2 officiating to referee supervisor - ESPN Dallas.
Cuban's got a point here. After all, the officials did let a second-year role player in
James Harden
drop 24-7-4 on them, and let
Eric Maynor
set the tempo without pressuring the ball. They also failed to get
Dirk Nowitzki
the ball for most of the game. Oh, no, wait, that was Dallas. Dirk Nowitzki was officiated differently in Game 2 than in Game 1. That's going to happen. You're not going to get consistent officiating crew to crew. It's not a matter of one team getting more of the calls, it's how they're called. In Game 1, a lot of calls were made from post or face-up, leading to Dirk's billion free throws or Durant's ability to pump-and-catch. In Game 2, most of the calls came off the drive, leading to Durant getting calls every time he took the ball to the floor. With Nowitzki still working out of the post, even when driving from there, he wasn't able to get to the line as often.
And three-second violations, Mark? You've got a better chance of bringing the rain with a dance than getting that call by complaining about it.
Cuban will get fined, most likely, and all will be right with the world.