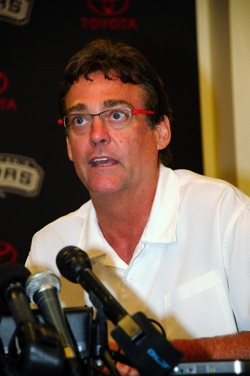 Posted by Royce Young
Earlier in the week,
Tony Parker
made
some curious comments.
Basically he said the
Spurs
are old, they're slow and they're done winning. He actually said that he thought their window was closed.
"I don't think this current team will play for the title in the future," Parker said. "We are aging. We must be realistic. It was sort of our last chance this season.
"Tim [Duncan] and Gino (
Manu Ginobili
) are getting old. It's going to be tough to regenerate ourselves. We will always have a good team but we can no longer say that we're playing for a championship."
Pretty stunning comments from a guy that just signed a long-term extension with the Spurs. A team that just had the top record in the West, mind you.
(I can't help but wonder what Ginobili and Duncan thought about being called old by Parker. I mean they are, but still, nobody wants to hear they can't play any more because of their age.)
Parker's comments likely weren't all that well received by the organization and someone got in touch with general manager R.C. Buford to get his thoughts on Parker's comments.
Via the San Antonio Express-News:
"Who knows what the motivation is to say something like that," Buford said. "I'm not going to get caught up in comments. All I can say is that we're going to continue to build our team and try to be as good as we can be in the future."
Some feel that maybe the motive for making such bold comments is that Parker is trying to spur (get it? you get it) the team into pushing for a few deals this summer to boost the roster. Maybe Parker's trying to not-so-subtly nudge the Spurs along. Or maybe he's just depressed about their first-round exit. Buford realizes that this is going to ramp up speculation about the roster though.
"I can't control that," he said, "and I'm not going to worry about it. We're just going to move forward and work to improve the team."
Nobody runs a more well-oiled organization than Buford. They say the right things, do the right things and rarely have a hiccup. So this is a rare event. At some point, yes, Duncan, Ginobili and others will phase out. The roster will turn over to new faces. Parker sees that coming. But I have no doubt that maybe the best GM in the business does too.