Kevin McHale is reportedly the "frontrunner" to serve as the next head coach of the Houston Rockets. Posted by Ben Golliver.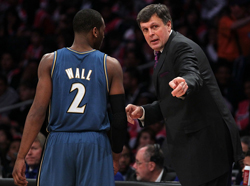 The Houston Rockets coaching search has dragged on for weeks, but the team has apparently found a favorite.
A few weeks back, Houston narrowed its list to three finalists: Lawrence Frank, Dwane Casey and Kevin McHale. On Saturday,
Yahoo! Sports report
s that McHale has emerged from the back as the "frontrunner." The site notes that McHale made "a strong final push in the interview process."
No final decision has officially been reached, nor are contract negotiations underway, but McHale has clearly separated himself from Dallas Mavericks assistant Dwane Casey and Boston Celtics assistant Lawrence Frank, sources said. McHale made a strong final impression in conversations with Houston officials on Thursday in Chicago, and could receive a formal offer in the next week.
The Rockets are clearly in a rebuilding phase, having missed the playoffs in each of the last two seasons. Injuries to
Yao Ming
have handcuffed the team, both from a financial perspective and a roster-building perspective.
For the Rockets, McHale might represent an experienced NBA veteran with an affable personality to pull a team through the rigors of a rebuilding effort. At age 53, McHale's time in the NBA spans more than three decades as a player, coach, executive and television commentator.
McHale's previous coaching experience came in two runs with the Minnesota
Timberwolves
, where he also served as a front office executive. McHale's career coaching record is 39-55.
As a player, McHale was a Hall of Fame forward for the Boston Celtics. He won three titles in his 13-year career and was selected to seven All-Star games.