Chicago Bulls point guard Derrick Rose says the NBA has a "huge" issue with performance enhancing drugs. Posted by Ben Golliver.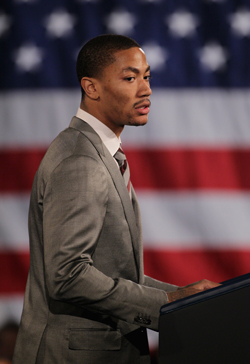 Update (2:02 p.m.):
Rose
denied making the "huge issue" statement
to CBSSports.com's Ken Berger through a team spokesman.
The Chicago Tribune reports
that a source close to Rose said the question was phrased differently than was presented in the article.
Here's more from CBSSports.com's Ken Berger
, including thoughts from Miami
Heat
All-Star guard
Dwyane Wade
and an official statement from Rose released Sunday afternoon.
Original Post:
The 2011 NBA MVP knows what he would like to see changed about the league.
In a survey of PED use in various sports in the May 16 issue of
ESPN: The Magazine
, Chicago Bulls point guard Derrick Rose was asked to rank its prevalance on a scale of 1-10, with one signifying "What are PEDs?" and 10 meaning "Everybody's juicing!"
Rose's response: "Seven. It's huge and I think we need a level playing field, where nobody has that advantage over the next person."
By comparison, James Laurinaitis of the NFL's St. Louis Rams also ranked his league's problem with PEDs a 7. The only sports to receive higher rankings from their representatives: Boxing (10) and MMA (8). MLB was ranked a 5.
While PEDs have been an ongoing black mark for both the NFL and MLB, the NBA has largely avoided any controversy on the subject. Indeed, the general assumption has long been that NBA players would not resort to steroids or other performance enhancers because they need agility and athleticism rather than raw power and bulk.
A major reason for that assumption has been the lack of players -- especially prominent players -- caught by the league's anti-drug program. Rose's statement appears to call into question that program, which includes testing for both illegal and performance-enhancing drugs.
Its two biggest catches:
back in August 2009
, then Orlando
Magic
forward
Rashard Lewis
was suspended 10 games for PEDs.
In January 2011
, Memphis
Grizzlies
guard
O.J. Mayo
suffered a similar fate.
But if the current policy isn't producing a "level playing field," what is it doing? If the league's strongest point guard -- a player who can get to the rim against every team in the league and who has a lot to lose by speaking his mind -- feels like things are unfair, this is potentially a very serious problem, right?
Hat tip: IamaGM.com