A decision on Houston Rockets center Yao Ming's future is still months away. Posted by Ben Golliver.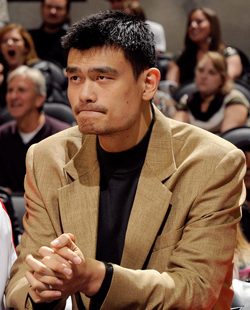 Back in March
, after suffering a season-ending stress fracture in his ankle, Houston Rockets center Yao Ming pledged to attempt a comeback rather than retire.
At just 30 years of age, Yao would have years of playing ahead of him if not for persistent injuries to his feet and ankles. While Yao hasn't played in a game since November 2010 and has played in just five NBA games since the conclusion of the 2008-2009 season,
the Houston Chronicle reports
that Yao says it's still much too early to know whether he will be available next season.
Yao, 30, said he "might" know in August or September if he will ever play in the NBA again. He wants to. And he wants to play here. He just doesn't know if his body will enable him.

"It's too early to say still," he said. "The experience I have (tells me to keep) doing what I am supposed to do every day. You never know what will happen tomorrow."
In
a separate report
, the paper notes: "Rockets owner Leslie Alexander and general manager Daryl Morey have expressed their desire to re-sign Yao if he's healthy."
For Yao, there's really no rush, especially if the Rockets are willing to take the patient approach. With that said, Yao's contract does expire this summer, making him an unrestricted free agent. If there's the possibility that his rehabilitation will take up a chunk of the 2011-2012 campaign, the Rockets could simply wait to sign him until there's more clarity on the issue.

The dialogue between the two sides seems open and positive so it would be mildly surprising if we've seen Yao for the last time in a Rockets uniform.