The Chicago Bulls dropped Game 3 against the Miami Heat, falling behind in the Eastern Conference finals 2-1. What needs to change for the Bulls to extend this series? Posted by Ben Golliver.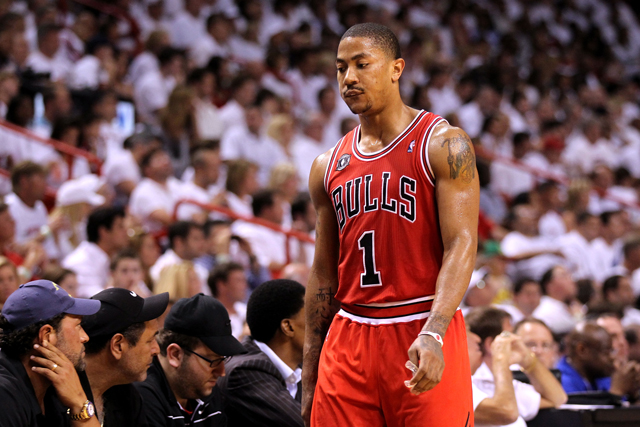 The Miami Heat not only won Game 3 on Sunday night, they took full control of their Eastern Conference finals series against the Chicago Bulls. In prevailing 96-85, Miami showed it was capable of playing defense as well as Chicago has played it all season
and
that it could find new ways to pick apart the Bulls with their three-headed monster attack. In turn, forward
Chris Bosh
delivered a game-high 34 points.
The Heat's win clearly sets up Game 4 as the swing game. Should Chicago prevail, this series is almost certainly going seven games. But if Miami should hold court at home? The Bulls would be faced with the prospect of winning three straight in an elimination scenario. Good luck with that.
Here's three things that need to happen for the pendulum of momentum to swing back the other way.
1. Derrick Rose needs to find his rhythm
Following Game 1, the post-game talk centered around how well
Luol Deng
and Chicago's team defense were able to contain
LeBron James
. In Game 3, especially during the second half, the same points apply for how Miami handled Derrick Rose. Clearly, he was frustrated and forced off of his game.
The Heat committed lots of bodies to the cause, doubling Rose, stepping into his driving lanes and remaining very active in the passing lanes as well. In handling the double teams, Rose said: "I've been trying to beat it with the pass, I have to be more aggressive."
Yes and no. While LeBron James helped seal the win by picking off a Rose crosscourt pass and taking it to the house over
Kyle Korver
, Rose also committed multiple turnovers by driving too hard into traffic, either losing control of the ball or getting hit with a player control foul. It's a bit of a paradox, but he needs to be both more aggressive and less aggressive simultaneously (if that's possible).
A return to controlled, timely aggression is probably the best way to put it.
Here's a look at James' steal and finish in transition.
2. Backcourt scoring desperately needed
Rose's reads would be easier and his drives to the bucket more effective and productive if he was getting anything -- anything at all -- from his backcourt mates. Chicago guards not named Rose combined for 13 points on 5-14 shooting.
Keith Bogans
, Kyle Korver,
Ronnie Brewer
and
C.J. Watson
also combined to attempt just four three-pointers in 63 minutes.
If you're wondering why there's no room in the paint, look no further than the fact that Luol Deng is the only player on the entire roster that approximates a floor-spacer right now. Like a football team with no deep threat option, the Bulls haven't made the Heat pay for overloading. It was the same story in Game 2: Deng took seven three-pointers while Bogans, Korver, Brewer and Watson combined to shoot 2-10 from deep.
If those numbers don't change in a meaningful way, it doesn't matter how well Chicago plays defense. They're toast.
3. Energy differential


Both teams competed incredibly hard on Sunday night, and Chicago was hampered by the fact that
Joakim Noah
's activity level was hampered by early foul trouble, throwing their rotation off. Coaches always talk about who has the "edge," though, and in small ways it was Miami. Most obviously, it was the play of Bosh, who came out aggressive and never looked back, sizing up open shots and seizing the opportunity to take his defenders off the dribble.
Bulls coach Tom Thibodeau pointed to his team's failures to defend Bosh as a prime reason for the loss. In particular, he didn't like how his team closed out on Bosh once Miami's other players had attacked the paint. "We gave him too much space. We didn't challenge his shot properly. We didn't give the appropriate help ... You have to protect the paint and then get back out. I don't think we did that... We've got to get up and challenge their shots better. Rebounding was good, challenging their shots wasn't."
Carlos Boozer
, Bosh's match-up, was no statistical slouch either, dumping in 26 points and grabbing 17 rebounds. But Bosh was simply a more impactful player in the fourth quarter, scoring eight straight points to help push Miami out of Chicago's reach.
The Bulls never gave up, but they didn't have enough activity, especially offensively, to pull the game back within reach.
"Our will wasn't there tonight," Rose concluded. It will need to be there in Game 4 or Miami can book its NBA Finals tickets.