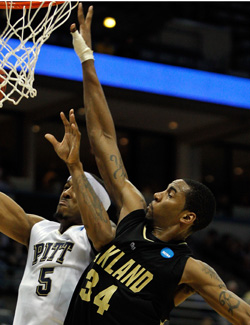 Sixers have tageted bigs in 2011 NBA draft.Posted by Matt Moore
The Sixers made the playoffs this season, which was a big step forward. They didn't even really need the No.2 overall pick
Evan Turner
, but Turner showed some potential in the Sixers' one-and-out playoff stay. But with
Elton Brand
unlikely to keep up his career recovery, flashback performance, the Sixers are looking to the future. They know they need a go-to scorer, and
Andre Iguodala
isn't it. But first and foremost, the Sixers need a big man. And the
Philadelphia Daily News
notes that's exactly what they're looking for in the draft.
Unless there is a move before the draft, such as Andre Iguodala being dealt and a good big man being acquired in exchange, a source close to the team said they will not be looking at anyone "under 6-8. We need a big."

That is the first priority for coach Doug Collins, president Rod Thorn and general manager Ed Stefanski. After that, other pieces will need to be upgraded and filled, most notably by someone who can score at a consistent level in the NBA.

But before that, a big seems to be tops on the agenda.
via
Some players who could make a difference for Sixers | Philadelphia Daily News | 05/23/2011
.
There will be options for the Sixers at 16, as the
Daily News
notes, Kenneth Faried being possibly the best target. But his lack of size is problematic. The other option is Keith Benson, whose measurement numbers were freakish. There has been talk that the Sixers could move up, using Iguodala as bait. But Iguodala is a complimentary player, and no team at the top of the draft is looking to add a complementary player. They'll draft the best big available. Only question is who that will be.
CBSSports.com's Mock Drafts 4.0 go up Tuesday.