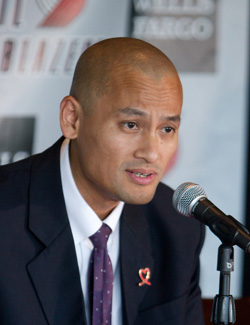 Posted by Ben Golliver
PORTLAND, Ore – For the second time in less than twelve months, the Portland
Trail Blazers
have parted ways with a respected general manager. On the night of the 2010 NBA Draft, word surfaced that the team had agreed to part ways with former General Manager Kevin Pritchard. On Monday, the team announced that it was doing the same with his successor – Rich Cho – roughly one month before the 2011 NBA Draft.
Cho, known for his salary cap acumen and analytical approach, made two moves of substance during his tenure, trading away guard
Jerryd Bayless
and trading for forward
Gerald Wallace
. He had meticulously planned his draft war room structure for months, turning a conference room into a think tank with flat screen televisions and white boards adorning all the walls.
He never got a chance to use it.
"I think the big issue was chemistry between him and the owner," Blazers president Larry Miller told CBSSports.com. "They were just never able to click. Rich is a smart guy, a really nice guy, brings some talents to the table but I think if the chemistry isn't right, it's hard for it to work."
Portland's owner, of course, is billionaire Microsoft co-founder Paul Allen. In his memoir, Idea Man, released a little more than one month ago, Allen writes: "After replacing Kevin Pritchard (who struggled in the managerial parts of his job) with Rich Cho, we believe that we've found a leadership team that can get us back to the Finals."
And, then, Monday's abrupt news.
"There wasn't an incident," Miller maintained. "I think we learned from last year, that sometimes it's better when you know something, to move sooner than later. If we know this is not going to work, let's not drag it out. Let's not put it off, let's just go ahead and move on it now."
Cho declined interview requests, but did release a statement through the team's public relations department. "Obviously it's a difficult day, but I want to truly thank Paul Allen and Larry Miller for the opportunity they gave me here in Portland," Cho said. "I also want to thank the fans, players, coaches, business office staff and especially my basketball operations staff who have supported me along the way. I feel good about the work we've done here and I know the Trail Blazers are headed in the right direction."
Asked for Cho's reaction to the news, Miller said simply: "Rich was shocked."
While Cho kept a very low profile in Portland, rarely making public statements, at least two rifts emerged during his tenure. First, an apparent disagreement in how to handle guard
Brandon Roy
, who made critical comments about his playing time and role both during the season and during the playoffs. Second, a difference in public strategy in terms of handling injured center
Greg Oden
. While Miller said publicly that the team would likely extend Oden a qualifying offer this summer shortly after he underwent microfracture surgery, Cho remained tight-lipped, not offering a public statement until weeks later.
Miller said Monday that neither issue figured into the decision to part ways with Cho.
"I don't know whether there were philosophical issues," Miller said. "The whole deal about Brandon … that really didn't play into this decision. That was something that was talked about with Rich about how we should handle that around Brandon. We kind of agreed that the best thing was for Rich to talk to him and let him know if something happened again, there would be a suspension. That was the extent of that. It wasn't like there was any issue around that."
As for Oden's future, Miller said the management team was and is in lockstep. "I think we were on the same page, although I may have expressed it one way and Rich may have expressed it another way. From an organization perspective we were on the same page. If Greg does the things that we need him to do or that we expect him to do, then we are going to issue a qualifying offer to him. Rich may have just said the same thing differently than the way I said it. The reality is, even up to Mr. Allen, we're on the same page."
That timing of the firing and the quickness with which it came left many Blazers fans scratching their heads and others outraged at organizational incompetence. Indeed, Miller's explanation about a chemistry rift is a 180 degree turn from previous statements. The team had publicly vouched for Cho's ability to hit it off with Allen during his job interview and officials had regularly spoken about the new management group's relationship together.
Miller acknowledged those concerns but chalked it up to a casualty of doing business. "I can understand how fans and people would say, 'But you guys said this was the right guy.' The reality is we thought this was the right guy or we wouldn't have hired him. The fit is just not right. I've seen this in other business situations where I've worked before. You've hired someone at a senior level and you think that the skillset and they're smart people, they have all the right tools to come in and do a job. Then, you hire them at some point into it you realize that they're not the right person for that job. The difference is that this is a public situation but to me it's not unusual. This does happen from time to time."
The Blazers have no timetable for replacing Cho, and Miller noted that it's "possible" the team enters training camp in the fall without naming a full-time replacement. In the meantime, the team's Director of College Scouting Chad Buchanan will serve as Interim GM. "I think we feel comfortable with Chad and the rest of the team out there as far as going into the draft is concerned."
Buchanan, who has worked for the Blazers for seven years, leap-frogs over Cho's two hand-picked assistant GMs: Bill Branch and Steve Rosenberry. Miller says both men will remain with the team and are still under contract.
"Chad has been around here," Miller said. "Even though their titles were different, their responsibilities were not that different. They all reported into Rich at the same level. The reporting structure was the same, it was just a difference in title. I wouldn't say he's jumping over them."
Still, the situation is as bad as it looks. A team beset by injuries on the court and drama off of it.
Miller defended his owner from charges of irascibility. "Mr. Allen is determined to get this right. He's determined to try to build a championship team here. Determined to make sure this team is going to be the best it can possibly be."
Miller also brushed aside the notion that he's serving as the de facto GM. "I do have some things I can bring to the table to help with some of those decision but the decisions are going to be driven by the basketball operations staff. I'll be there to help and assist those guys in any way that I can."
Whether or not Miller is correct that the team learned from its mistakes, it's clear the organization's leadership doesn't want to be here again.
"We're going to make sure we take our time and do it right this time," Miller said." I don't want to go through another summer like this."
Maybe the third time will be the charm.