Golden State Warriors guard Monta Ellis has a tree tattoo on his chest. Posted by Ben Golliver.
Well, this tattoo is certainly better than
getting some type of World of Warcraft shrine inked
on your back like Utah
Jazz
forward
Andrei Kirilenko
, but it still feels extreme.
Pictured below is the chest of Golden State Warriors guard Monta Ellis, which is now covered in a giant tree tattoo. Have a look.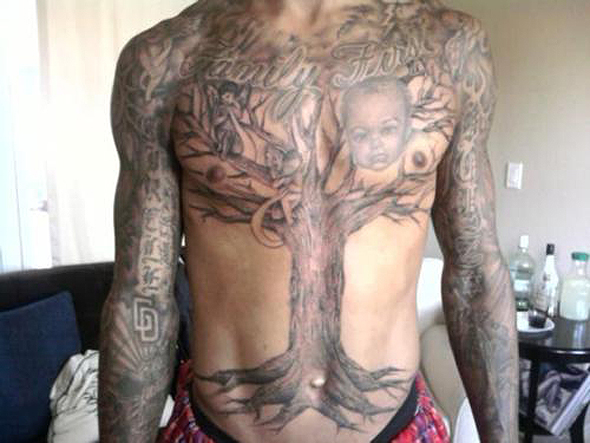 Some of the design elements here are next level. His bellybutton is apparently serving as a hole in the tree's massive root system, there are angels sitting in the tree's branches over one half of his chest and a giant picture of his child on the other. At the top of the tree the words "Family First" are in huge letters, up among the branches and leaves, which in turn sort of blend into his two arm-sleeves.
I'm no dendrologist, but it's possible that this is a magnolia tree, the state tree of Mississippi. Ellis is a Jackson, MS native.
Also worth noting, on his left arm, Ellis has tattooed the words "Ellis Family" just in case the giant "Family First" reminder wasn't enough. If he should happen to want to enter his name into the field of 2012 Republican Presidential candidates, he's off to a good start.
This work appears on a MySpace.com page called
Tattoos By Randy
and Atlanta
Hawks
guard
Jamal Crawford
, Orlando
Magic
wing
Quentin Richardson
and Indiana
Pacers
center
Solomon Jones
are other NBA players with tattooes pictured on the page.
Hat tip: The Basketball Jones