The next coach of the Los Angeles Lakers will reportedly make far less than former coach Phil Jackson. Posted by Ben Golliver.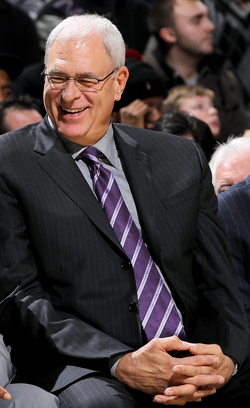 Following in Phil Jackson's footsteps as head coach of the Los Angeles Lakers would be a dream job for just about every coach in the league. But that title doesn't necessarily come with all of the same benefits.
The Los Angeles Times reports
on Tuesday that Jackson's successor will be likely be paid half -- or less -- of Jackson's 2010-2011 salary.
Jackson topped out at $12 million in 2009-10 before taking a pay cut last season to about $10 million.

The new Lakers coach can expect an annual salary of $3 million to $5 million, according to people who are familiar with what the Buss family is thinking. That is barely half what Jackson made in a best-case scenario for the new hire.

It still projects to an increase from the average NBA head coach salary range of $2 million to $4 million.
In pure dollars and cents the premium that Jackson's championship experience and expertise was commanding is fairly stunning. In what other industry does one of thirty colleagues made so much more than everyone else? He was in a tier by himself and there really was no second or third tier. Everyone else checked in on the fourth and it went down from there.
Given that fact, this decision speaks more to bringing the job back into industry norms than it does to any cost-cutting policy. There are plenty of quality NBA coaches that would kill to make $5 million a year.