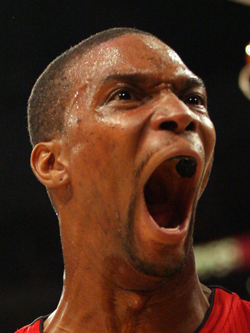 Posted by Royce Young
The easy joke to make about
Chris Bosh
this season is that he's no star. That the
Heat
have a Big Two and he's just the outsider with a really small head and a giant mouthpiece.
He's heard all of that all season long. He heard it when
Carlos Boozer
made a comment saying the Heat have two stars. And Bosh has put together maybe his best string of games all season so far against the
Bulls
, going for 30 in Game 1 and 34 in Game 3. He's averaging 24.7 points per game so far in the series along with 7.3 rebounds.
Bosh went on WQAM in Miami
and was asked about the "2.5 stars" jokes that have been made and if Carlos Boozer made him made.
"He didn't piss me off. It wasn't like I was just thinking of that quote the whole time. It didn't do much for me. It did motivate me at times, but it wasn't the main source. I get inspiration from everywhere and that wasn't the main thing."
He was then asked if it bothers him people say the Heat have just two stars.
"I'm not going to lie it gets under my skin a little bit. I always say okay I never asked to be the "Big Three," and it's like okay a joke is a joke. Come on I am trying my best? The fact that it was hard. It made it hard to not get offended. It's like I'm working over here. All I wanted to do was win and that was early. Now you just don't care."
Bosh has always been portrayed as a bit of a sensitive guy. Call him soft, "fake tough" or whatever else, he doesn't exactly have a reputation like
Kevin Garnett
.
Against Boston in Game 3, he admitted that his nerves maybe got to him a bit and that he was rattled. That sort of stuff doesn't really help the reputation, Chris.
But in this series, when his team needs him most, he's producing. Is that because he's extra motivated? Who knows. If it really works like that maybe LeBron needs to say the Heat have just one star so that
Dwyane Wade
gets jumpstarted a bit.