Report indicates Mike Brown to be hired as the next head coach of the Los Angeles Lakers. Posted by EOB Staff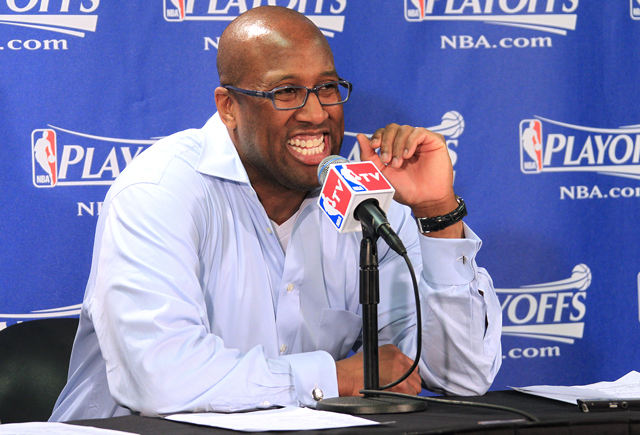 Update: 8:17 p.m.
The Los Angeles Lakers have issued a statement confirming that the team has reached an "agreement" with Mike Brown to serve as the team's next head coach.
"In response to rampant speculation and reports about our head coaching position and Mike Brown, we've met with Mike and are very impressed with him. In addition, we have an outline for an agreement in place and hope to sign a contract within the next few days."
CBSSports.com's Ken Berger
reports
the deal is for four years and $18.25 million.
The Associated Press notes that Brown will be the 22nd coach of the Lakers and that Jim Buss, son of owner Jerry Buss, led the search process without consulting any of the Lakers players, including
Kobe Bryant
.
Rather than promoting one of Jackson's assistant coaches, the Lakers are changing course after an abrupt end to their two-year title reign and the long-anticipated departure of Jackson, the coach with the most championship rings in NBA history.

Although Kobe Bryant endorsed Jackson assistant Brian Shaw for the vacancy, Jim Buss - the Lakers' executive vice president of player personnel and the son of owner Jerry Buss - became intrigued by Brown after Saturday's interview.

Bryant and his teammates apparently weren't consulted during the coaching search, and Bryant declined to comment on Brown's hiring Wednesday when reached by the Los Angeles Times. Bryant publicly supported Shaw, his former Lakers teammate, but the two-time NBA finals MVP also said the Lakers should find a coach who believes in hard-nosed defense.
Bryant reportedly was
"surprised" by the hiring
.
On Wednesday,
LeBron James
, who played for Brown in Cleveland,
offered his endorsement
.
"I think it's great," James said in Miami, where he's preparing for Game 5 of the Eastern Conference finals.

"Mike Brown is a great coach," James said. "He brought us success that we hadn't had before in that city, and it started with his defensive concepts. He brought in a defensive mindset that we didn't have. Fifty-plus wins, he was coach of the year, he got us to the (NBA) finals, won us the Eastern Conference finals ... because of him and his coaching staff. I respect him. He definitely helped me become who I am today."
The AP also noted that Brown is known as being a defensive specialist.
Brown's background in defense apparently intrigues the Lakers, whose last two title runs were built on sturdy defense led by Bryant and 7-foot shot-blocker Andrew Bynum, a favorite of Jim Buss. Brown is a former assistant to San Antonio coach Gregg Popovich and Dallas coach Rick Carlisle, who employed Brown as his defensive coordinator in Indiana when Lakers forward Ron Artest was named the NBA's top defensive player in 2004.
Brown, 41, coached the
Cavaliers
from 2005-2006 to 2000-2010, winning 50-plus games in four of those five seasons. He took the Cavaliers to the NBA Finals in 2006-2007. He was named the NBA's Coach of the Year in 2009 but parted ways with the team in the early summer of 2010, shortly before All-Star forward LeBron James left the franchise to play for the Miami
Heat
. Prior to his time in Cleveland, Brown was an assistant coach for the San Antonio
Spurs
.
His name
first surfaced
with regard to the Lakers position last week. Other candidates included former Houston
Rockets
coach Rick Adelman, Lakers assistant Brian Shaw and former Lakers coach
Mike Dunleavy
.


Update 4:06 p.m.:
Ken Berger of CBSSports.com confirms
the deal is done in principle.
UPDATE:
According to Ken Berger of CBSSports.com,
the Lakers and Mike Brown are finalizing negotiations to make him the next coach. "It's close," a source said.
Matt Steinmetz of CSN Bay Area reports
that the Lakers will hire Mike Brown as their new head coach following the retirement of Phil Jackson. Steinmetz reports two sources confirming a four-year, $18 million deal for Brown. Previous
reports had Brown close to a deal
following owner Jerry Buss telling reporters that the Lakers were "very close" to a new head coach.
Brown brings plusses and minuses, as he is a stellar defensive coach respected by veterans like those the Lakers have. Conversely, Brown is also a questionable offensive coach, relying on offensive assistants for help in that area. He is known as a key motivator, which the Lakers could clearly use after a lackadaisical season. But there are questions about his ability to wrangle stars after the way LeBron James dominated the situation in Cleveland. Now he faces an even more ego-heavy locker room.
There was talk
the next Lakers coach would have to take a pay cut, and should the report be accurate, this is a considerable cut from what Jackson made last season, and even more so from the extension
Jackson signed before the 2009 season
.
There will be questions as to why Rick Adelman was not given the job, but Brown is a capable coach who fits in well with the veteran Lakers squad. It's a move for both stability and change, just what Buss was looking for.
Information from the Associated Press was used in this article.