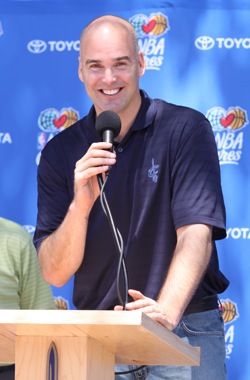 Posted by Royce Young
As our Ben Golliver pointed out in his terrific piece
where he spoke with Blazers president Larry Miller just hours after the organization parted ways with general manager Rich Cho, Portland is planning to take its time choosing the next GM.
They're 0-for-2 with the past couple hires so obviously the franchise is looking for some stablility. But no doubt the powers that be are assembling their list of potential candidates to fill the position.
And according to the San Antonio Express-News,
former Cleveland GM Danny Ferry is sitting right near the top.
During his five years in Cleveland, Ferry worked for a billionaire owner with a big ego, Dan Gilbert. He also dealt with a superstar, LeBron James, who had a team of sycophants behind the scenes second-guessing and undercutting the GM. Still, Ferry built a team that made it to one NBA Finals and posted the NBA's best regular-season record in back-to-back seasons.

That's not exactly a mirror image of Allen's operation in Portland — the sycophants there work for Allen, not a player — but it's close enough to prepare Ferry for what he would face if he were to end up as Cho's successor.
That really could not have been put better. Clearly there are some issues with upper management and ownership in Portland. Kevin Pritchard and assistant GM Tom Penn butted heads with the Blazer brass before Cho couldn't co-exist. So finding a "fit" is very key. And not only does Ferry have experience in that field, he comes from a
Spurs
organization that does every by the book and a Cavs organization where he experienced a lot of outside influences while doing his job.
(Currently, Ferry is San Antonio's vice president of basketball operations.)
In all honesty, I think Ferry would be a tremendous hire for the Blazers. Managing people is as much a part of a GM's job as anything else and Ferry is pretty solid in that deparment. As a former player he understands chemistry and what it takes for a team to function properly. He was a terrific role player in his NBA career and I'm sure he'd understand his role well in Portland.
One hangup though: Ferry would again be coming from the Spurs organization. Cho came from the
Thunder
, a franchise that is run in very similar fashion to the Spurs. Now Cho and Ferry are clearly different people with different personalities, but in team of organizational structure, their backgrounds are similar.
Obviously Ferry isn't going to be the only guy on the list. Owner Paul Allen is looking for someone to "connect" with him. In other words, do exactly what he says, no questions asked. With Ferry though, it would take some courtship from the Blazers to convince him. Having fired two GMs in less than a year doesn't exactly encourage the best and brightest to sign up. Unless of course the price is right.