Miami Heat forward Mike Miller attended to his sick newborn following Game 4 of the Eastern Conference finals. Posted by Ben Golliver.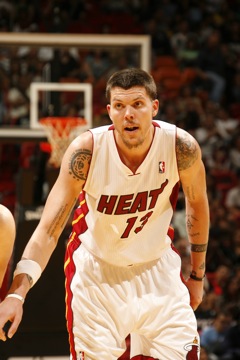 Miami Heat forward Mike Miller has dealt with plenty of adversity this season: a thumb injury that kept him out for months and the brief disappearance of his shooting stroke that contributed to his on-court struggles this season. But none of that compares what he's been through this week.
The
Palm Beach Post
reports that Miller headed to the hospital following Miami's Game 4 win over the Chicago
Bulls
in the Eastern Conference finals to check on his newborn daughter, Jaelyn. The girl was born between Games 2 and 3 of the series but remains in the hospital's intensive care unit.
Miller was visiting his wife, Jen, and baby daughter, Jaelyn, who was born last Thursday with a condition that the Millers have not disclosed. Miller remained at the hospital until 4 a.m.

"As important as the playoffs or the Eastern Conference Finals are to me, the most important thing right now is (Jaelyn) and my wife," Miller said Wednesday before the Heat boarded its charter for Chicago, where it could advance to the NBA Finals with a victory in Thursday night's Game 5.

"It puts things in perspective. It makes my thumb injuries a lot less important right now."
The
Associated Press reports
that Miller plans to play in Thursday night's Game 5 in Chicago.
Jaelyn was born between Games 2 and 3 of the East final. Miller has not missed either game since she was born, and told reporters on Tuesday night — after perhaps one of his best games with the Heat — that his daughter is "a fighter."

"She's doing good right now," Miller said Wednesday. "And hopefully she'll continue to do better."
Despite the emotional weight of the situation, Miller scored 12 points in Game 4, including two three-pointers, more than he's scored in the rest of the 2011 NBA playoffs combined, and the most points he's scored in a game since March 23. That he's playing at all is remarkable given the circumstances.
Miller has taken to wearing pink shoelaces to honor his Jaelyn, who is his first daughter after two sons. The
Post
notes that Heat president Pat Riley offered to pay any fine incurred for breaking dress code should the NBA league office raise the issue, which it hasn't.