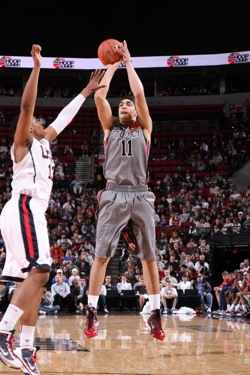 Posted by Royce Young
There has already been some talk about the Minnesota
Timberwolves
moving down in the draft. The reasoning is solid. What's available at No. 2 might not help them much and they're likely looking for some veteran help to bring along their young guys.

However, SI.com reports
that the Wolves are thinking of moving down a spot or two to try and get Enes Kanter, while also acquiring a few additional assets.
Kanter has become quite the intriguing prospect, as he's become The Great Unknown Big Man that catches the attention and imagination of general managers. He's big, talented, skilled and has a bunch of upside to be fulfilled. It's hard to know if he'd be available at three or four as he's been mocked to go as high as No. 2 in some places.
My issue here is, how exactly does he benefit the Wolves, other than just being another big body to develop? I suppose they could pick up a second-round pick and maybe a veteran role player moving the No. 2 pick for the No. 4 or 5, but it's not going to be that substantial. And especially for a guy that doesn't completely have a spot on your existing roster.
But this would be SUCH a David Kahn move. Making a deal for the sake of making it and then drafting a guy that doesn't at all fill a need for you. The thought of the Wolves moving down to 10 or so and picking up actual veteran help made sense. So naturally, they're not going to do it.
Kahn just signed his "manna from heaven,"
Darko Milicic
for four years. He's hopefully going to lock up
Kevin Love
with an extension. Kanter could potentially slide in and play with Love in the front court in the future, but what Kahn would be creating is another positional logjam. Which doesn't make any sense to me.
Which means it makes a ton of sense to David Kahn.