An early preview of the NBA Finals matchup between the Dallas Mavericks and the Miami Heat. Posted by Ben Golliver.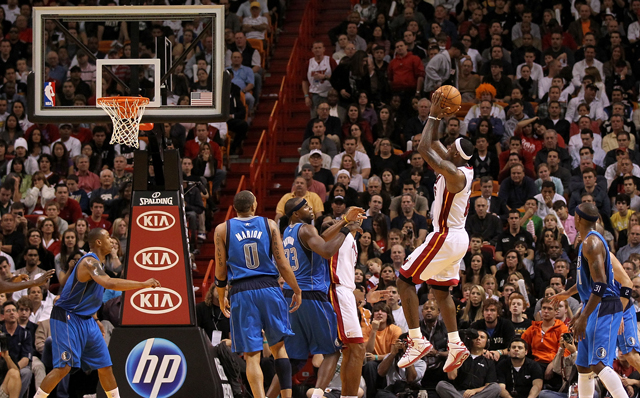 I. Intro: Western Conference Champions: No. 3 seed Dallas Mavericks (57-25) vs. Eastern Conference Champions: No. 2 seed Miami Heat (58-24)
II. How They Got Here: A look at the playoff track records
Dallas: 12-3 in the 2011 NBA playoffs (4-2 against the Portland Trail Blazers, 4-0 against the Los Angeles Lakers, 4-1 against the Oklahoma City Thunder). Dallas is 7-1 at home and 5-2 on the road in the playoffs.
Miami: 12-3 in the 2011 NBA playoffs (4-1 against the Philadelphia 76ers, 4-1 against the Boston Celtics, 4-1 against the Chicago Bulls). Miami is 8-0 at home and 4-3 on the road in the playoffs.
In the regular season, Dallas had the No. 8 offense and the No. 7 defense from an efficiency perspective. Miami had the No. 3 offense and the No. 5 defense. In the postseason, Dallas has the No. 1 offense and the No. 9 defense. Miami has the No. 4 offense and the No. 2 defense.

Both teams have played at a relatively slow pace in the postseason: Dallas is ranked No. 10 and Miami is ranked No. 13 out of 16 playoff teams.
III. What Happened: A look at the season series
The Mavericks and Heat matched up just twice in the regular season, with Dallas winning both times. The teams haven't faced each other in almost five months, as the two games took place all the way back on Nov. 27 and Dec. 20. Dallas won 106-95 at home on Nov. 27 and they won 98-96 on the road on Dec. 20.

Of course, much has changed for both teams, but the regular season results are interesting for one main reason: The Heat went 22-2 from Nov. 26, 2010 until Jan. 9, 2011 ... the best stretch of their season by leaps and bounds. Both losses during that time period came at the hands of the Mavericks.
Keep in mind, Dallas had the services of small forward Caron Butler and Miami was without power forward Udonis Haslem. In all likelihood, that situation will be reversed for the Finals: Butler is expected to be out as he continues to rehab from knee surgery while Haslem has returned from foot surgery to provide a major spark for the Heat against the Bulls.
IV. Secret of the Series: Late-Game Execution
Nobody has finished games like Dallas and Miami in this playoffs. Not even close.

The main weapons have been Dirk Nowitzki and LeBron James, but both teams have benefited from substantial defensive contributions from the likes of Shawn Marion, Tyson Chandler, Dwyane Wade and Chris Bosh. Throw in dagger shots from Jason Kidd and Wade, as well as meaningful role player contributions from Peja Stojakovic, J.J. Barea, Udonis Haslem and Mike Miller, and you start to understand why these two teams have stood up so well under pressure. They've got tons and tons of options.
Nowitzki has left longtime NBA observers speechless with his shot-making and play-making over the last month but James has matched him shot for shot, comeback for comeback. What might prove to be the difference is James' lockdown defense late in games. Never before has he appeared to enjoy ball-hawking as much as he did against the Bulls. Derrick Rose, one of the league's best shot creators, often looked absolutely hopeless in crunch time with James draped all over him. What's more, he has seemed immune to pressure ever since a critical late-game turnover against the Celtics. James closed out Boston with a monster run, and he combined with Wade to do the same to the Bulls on Thursday night. If the Mavericks can find an answer for James in the game's final minutes four times during the Finals, they will have more than earned their rings.
V. The Line-Item Veto: Who wins each match-up?
PG: The Miami Heat have dealt well with Jrue Holiday, Rajon Rondo and Derrick Rose so far in the playoffs, despite a middling point guard rotation featuring Mike Bibby and Mario Chalmers. The defensive versatility of James and Wade helps a lot to cover up for those two. Jason Kidd, at 38 years old, has been one of many unsung heroes for the Mavericks, surviving Andre Miller, Derek Fisher and Russell Westbrook. Both sides will be thankful here. Miami will be glad they don't need to worry about a paint-crashing young All-Star again while Dallas will take comfort in the same. Rather than worry about the Roses and Westbrooks of the world, Kidd can do what he does best: steady the ship, distribute the rock to the open man and force opportunistic turnovers. Kidd is averaging 9.9 points, 7.7 assists, 4.5 rebounds and 2.2 steals in the playoffs. Phenomenal numbers considering his age and the competition. Advantage: Mavericks.
SG: Dwyane Wade or DeShawn Stevenson? Let's not overthink this one. While Stevenson has been a nominal starter with reserve guard Jason Terry, an impact player on both ends, playing the bulk of the minutes, the Mavericks' combination falls far, far short of what Wade brings to the table. While the All-Star took a bit of a backseat in the scoring department in the Eastern Conference finals after torching the Boston Celtics, he's a match-up nightmare for the Mavericks. Really, he's what Kobe Bryant was supposed to be in the second round, if Bryant hadn't decided to shoot only contested jumpers and never get to the rim or the free throw line. Wade's been a menace on defense as well. He can cover tons of ground, which should help limit Dallas' hot outside shooting. Huge advantage: Heat.
SF: Like Kidd, Shawn Marion has been a major, chronically overlooked factor during Dallas's playoff run. Marion put the stamp on the Western Conference finals, coming up with two huge late steals and a brilliant and-one dunk to push the Mavericks past the Thunder in Game 5. But even in his best days, which are behind him, Marion was no LeBron James, and, over the last month, we've realized just how impactful James can be. From being able to interchangeably cover three or four positions, to closing out games, to sacrificing his body for crucial hustle plays, James has been everywhere. His postseason averages: 25.9 points, 8.7 rebounds, 5.4 points, 1.4 blocks and 1.6 steals (entering Thursday) are just ridiculous. Perhaps, best of all, despite playing almost 44 minutes a night and handling the ball a ton, he's committing less than three turnovers a game. Marion will have his hands full. Really, really, really full. Huge Advantage: Heat.
PF: Nowitzki has earned gushing praise. He has taken his scoring versatility, efficiency and creativity to new heights. The leaners have been great, a dagger three has been mixed in here and there, and his passing to keep teams honest has been exceptional. His effort level on the boards and on defense have both been superb. His postseason numbers -- 28.4 points, 7.6 rebounds and 2.7 assists – reflect his dominance. In Heat forward Chris Bosh, though, he's matched up with an athletic, talented player who is somewhat similar to Blazers forward LaMarcus Aldridge. Aldridge started the first round series with good success before the Mavericks adjusted and forced Portland's perimeter players to beat them, which they couldn't. Against the Heat, the Mavericks won't have that luxury, so they'll have to defend Bosh with single coverage a lot more often. That, plus the confidence and scoring touch Bosh showed against Chicago, will help Miami keep this match-up closer than you might expect. Still, it's Dirk's world and we're all just living in it. Advantage: Mavericks.
C: Joel Anthony has been the man in the middle fill-in that Miami so desperately needed. Better than a stiff, his activity level helps keep Miami from getting overrun on the glass and his help defense dissuades forays into the paint. That's about it for Anthony, which is OK from Miami's standpoint given the offensive talent they always have on the court. Tyson Chandler, though, has proven to be an effective two-way player for the Mavericks. Not only has he been a pest getting into the heads of his opponents, he's been huge on the glass, averaging 9.3 rebounds per game in the postseason. Foul trouble is always a lingering issue with Chandler, but his length and energy level, plus his ability to finish lob plays to prevent teams from overloading on Nowitzki, are all big plusses that tilt this match-up in his favor. Advantage: Mavericks.
Bench: The Heat haves scaled things back to an eight-man rotation, using only Mike Miller, Udonis Haslem and Chalmers. Although Miller and Haslem haven't really peaked in this playoffs, they've both made important contributions. Not much was expected after their respective injuries so it feels like an added bonus. If one of those three guys doesn't get hot, Miami's bench is really just buying time for its starters. Dallas, on the other hand, has enjoyed a big-time positive bench scoring differential throughout the playoffs. In addition to Terry, J.J. Barea has been a tempo-changing, gameplan-altering, pesky presence, Peja Stojakovic has provided the knockdown shooting and Brendan Haywood can give some fouls and pull down the occasional rebound. (He can also be counted on to get posterized.) The huge issue for Dallas' bench will be its perimeter defense. Will the subs be able to get their full runs through the rotation? How long can they stay on the floor if James and Wade continue to play heavy, heavy minutes? Hard to say. But Dallas' bench has been more consistent, more prolific and it does enjoy the depth advantage. Slight advantage: Mavericks.
Coach: As mentioned above, both teams enter the series having played very, very well at the end of games. Both teams have also survived against a variety of opponents, overcoming significant mental hurdles along the way. For the Heat, it was finally pushing past the Celtics. For the Mavericks, it was surviving a miracle comeback against the Blazers. Both teams have closed out series on the road. Both teams have played the "proving the doubters wrong" card during the course of the season and both have stayed true to their self-perceived identity, resisting criticism and believing in their fundamentals. Simply put: Heat coach Erik Spoelstra and Mavericks coach Rick Carlisle both deserve their share of the credit for those accomplishments. Advantage: Push.
VI. Conclusion
As dominant as the Mavericks have been in this postseason, they haven't played a team that is as talented, focused and steady as the Heat. In the Blazers, Dallas was able to exploit a weak shooting team. Against the Lakers, Dallas made a disorganized and sloppy team pay. With the Thunder, Dallas forced Oklahoma City's younger players to crack under pressure.

Miami is well-rounded enough so that it resists straightforward tendency analysis. It's fully motivated and focused as evidenced by its dismantling of the Celtics and Bulls in back-to-back series. And it's proven to be very resilient in big moments, coming back to beat both Boston and Chicago in dramatic fashion.

While the Mavericks own positional advantage at three starting spots, and for the bench as a whole, they have no answer for James and Wade. This year, it's starting to feel like no one in the NBA has an answer for that duo. Prediction: Heat in 6.