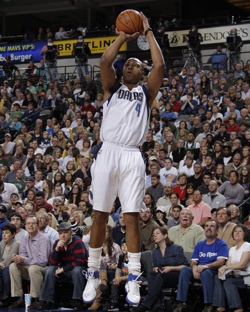 Posted by Royce Young
After
Caron Butler
's knee surgery back in January, he said he was going to try and get back for the postseason. I think we all sort of said, "Yeah right" and forgot about it.
Butler ruptured his patellar tendon on New Year's Day against the
Bucks
. Butler, a Racine, Wis. native, popped his kneecap back into place and actually walked off the floor because he didn't want to be carried off in front of friends and family.
But Butler's been working extremely hard during this past month rehabbing and trying to get himself ready for a return. Plus, he's gotten quite a lot of extra time because the Mavs have extended their postseason run all the way to The Finals.
Via ESPN Dallas:

"It's unlikely, but I can't say no for sure," coach Rick Carlisle said.
Jason Terry
said that Butler doesn't even have to play. Just having him out there would be a lift.
"I just want to see him in layup lines," Dallas guard Jason Terry said recently. "If he can get up in layup lines, it's going to boost us immensely emotionally. He's been here the whole way, though. This guy has worked so hard to get ready."
It's very unlikely Butler will make an appearance, but maybe he does suit up for a couple games. And like Terry said, that would be a nice bit of inspiration.
But what if Butler got healthy enough to play a little? Obviously he wouldn't return to the starting lineup, but if he were to see minutes, he'd like fill the role Peja Stojakoic has had off the bench. It's always dangerous to start tweaking and messing with rotations when what's got you here has clearly worked, but Butler would probably fit back in nicely.
Again, very unlikely though. Butler is obviously trying to rush things, which isn't a good idea. The Mavs could use him, but they need the Caron Butler that was playing really well back in December. Not one that's not even done rehabbing. But in terms of an emotional boost, the Mavs will take anything they can get.