Miami Heat forward LeBron James is Las Vegas' favorite to win MVP of the NBA Finals. Posted by Ben Golliver.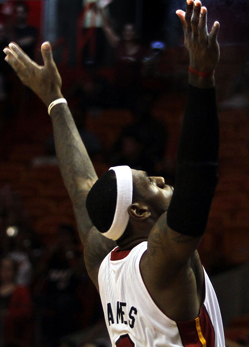 No surprise here: Miami Heat forward LeBron James is the odds-on favorite to win the 2011 NBA Finals MVP award. (Mandatory disclaimer: the following is for entertainment purposes only.)
The Dallas
Mavericks
and Miami are set to start the NBA Finals on Tuesday night in Florida. Here is the full list of odds via
Bodog.com
for the award, which is formally known as the Bill Russell Trophy.
Odds to Win the 2011 NBA Finals MVP (The Bill Russell Trophy)
LeBron James 5/4
Dirk Nowitzki 2/1
Dwyane Wade 7/2
Chris Bosh 11/2
Jason Kidd 10/1
Jason Terry 10/1
Field (Any Other Player) 7/1
James enters the NBA Finals with every reason to be the favorite. His team is favored to win the series. He was a force of nature on both ends of the floor against the Chicago
Bulls
. Perhaps most importantly, he was clutch: nailing huge three-pointers on offense and making
Derrick Rose
's life miserable on defense.
And, of course, his playoff stats have been monstrous: 26.0 points, 8.9 rebounds and 5.5 assists, plus 1.5 blocks and 1.7 steals to boot.
James, then, looks like the total package for this pick, which is almost always given to the player with the best numbers and/or biggest impact on the title winning team.
In case you were wondering, Vegas set odds on James' regular season stats prior to the season. Here's how he performed compared to projections.
Points Per Game Over/Under: 23.0 PPG -- (James was over: 26.7)
Rebounds Per Game Over/Under: 7.5 RPG -- (This was a push: James finished with 7.5)
Assists Per Game Over/Under: 7.7 APG -- (James was under: 7.0)
While Dirk Nowitzki is almost a lock to win the Finals MVP should the Dallas Mavericks spring the upset, Heat guard Dwyane Wade represents a fairly good value pick at 7/2. Wade did look a bit limited -- perhaps by injury? -- against the Bulls so there's a risk factor there. He certainly has a huge match-up advantage, however, as neither
DeShawn Stevenson
nor Jason Terry figures to be able to meaningfully impact his ability to score in volume.