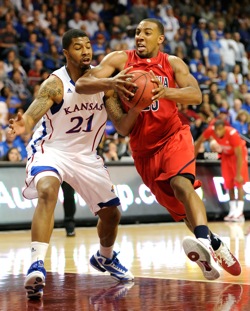 Posted by Royce Young
Most are projecting Arizona big man Derrick Williams to go for sure in the top five. Many have him in their top two, mostly likely going second overall either to the
Timberwolves
or the team David Kahn inevitably trades with.
But Kansas forward Markieff Morris says that Williams isn't all that great.
Via The Washington Post:
"I didn't think he was as good as advertised," Morris said. "He got the benefit of the calls from the ref and we had to guard him different. He definitely had a good game against us, because we couldn't guard him how we wanted to guard him, and that's what happened."

So when he hears that Williams is a lock to go in the top two, Morris said, "It's still surprises me. What he did to Duke, he wouldn't do that to me or my brother [Marcus]. I'm dead serious. He wouldn't. At all. He's good. But if we was to work out, I would go at him and I would be able to stop him more than people would expect, you know what I mean."
Geez, shots fired. Morris is projected as a mid-to-late first rounder. Obviously he's looking to make some noise and move his name up a bit, but he straight called out Williams there. Some though like that kind of confidence and swagger from a player. Morris is making a statement that he doesn't back down and he's not intimidated by anyone even if he's supposed to go No. 2 overall.
But at the same time, that strong-headed talk and bullishness sometimes turns off people. And you can be sure that Williams hears it loud and clear. The motive for Morris to say it is obviously to get people talking about him and bring his name up for the next few days.
I remember Brandon Jennings pulling that same thing in 2009 saying Ricky Rubio wasn't as good as everyone thought either. It was stirring the pot and it got people talking. Not a bad strategy, even if it's outrageously arrogant.
Williams had 27 points and seven rebounds in the lone game his Wildcats played against Kansas last season. Kansas though, won. Markieff had 15 points while brother Marcus finished with 16 points and eight rebounds. After that game Kansas coach Bill Self said, "I don't think anyone would argue [Williams] was the best player on the court." Well, evidently Markieff wants to argue about it.