Rick Adelman makes it sound like he's doing coaching in the NBA. Posted by Ben Golliver.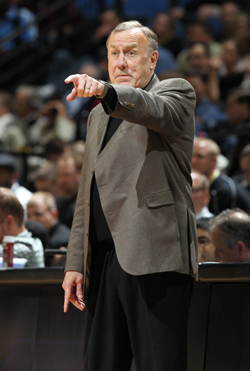 The Houston
Rockets
and head coach Rick Adelman
parted ways back in April
, and it took less than a month before
his name popped up
with regard to the Los Angeles
Lakers
head coaching position. But that job went to Mike Brown
earlier this week
.
In a revealing
interview with the Portland Tribune
, Adelman says he left the Rockets because management wanted to make changes to his staff and that he is interested in an NBA job, perhaps with the Portland
Trail Blazers
, that isn't as demanding as being a head coach.
"I'm looking to do something different, with not quite the stress the coaching aspect has. I have an affinity for Portland. Any way I could be involved, I would."
Adelman takes it a step further when asked if he would be interested in the Indiana
Pacers
head coaching position, making it sound like he might be done coaching in the NBA all together.
"I'm not sure if I'd be interested," he says. "I have a feeling Larry [Bird] is going to take his time (hiring a coach). If someone calls, I'll look at the situation, but I don't know if I want to do the coaching thing again."
Instead, it sounds like Adelman is ready for a move upstairs.
"It's something I haven't done, but I think I know the league pretty well," he says. "I've worked for a number of GMs. I've always wanted to do something like that, but I've had pretty good success coaching. I would be very interested in trying something different."
Adelman, who is 64 years old, coached the Blazers through their "Rip City" early-1990s glory years, leading the team to the NBA Finals twice. The team
fired its GM
, Rich Cho, on Monday.
The transition from coach to GM is not an easy one. As good as his coaching record has been over 20 seasons and as respected as Adelman is around the league, you've got to like his chances of success in the management ranks.
But GM jobs are hard to come by, even for NBA lifers.