LeBron James says that the Chicago Bulls are "one player away" from an NBA championship. Posted by Ben Golliver.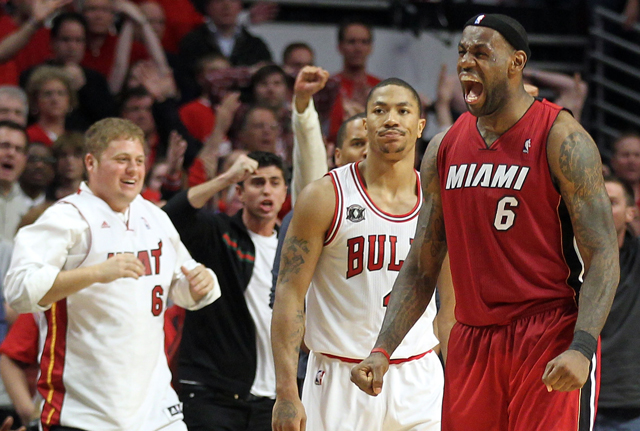 When your house has ants, you call an exterminator. When your laptop won't start, you turn to the Geek Squad. When you want to build an NBA championship contending core? Well, obviously, you consult Miami
Heat
forward LeBron James.
James, having bailed the Cleveland
Cavaliers
to team up with Heat star
Dwyane Wade
and former Toronto
Raptors
star
Chris Bosh
, is looking like an expert on that subject these days as the Heat prepare to begin the NBA Finals against the Dallas
Mavericks
on Tuesday night.
After the Heat eliminated the Bulls from the Eastern Conference finals,
the Chicago Tribune reports
that James delivered a message to Chicago point guard
Derrick Rose
.
Before getting caught up in celebrating his team's series-clinching victory over the Bulls on Thursday night, Heat star LeBron James embraced Reggie Rose, Derrick's older brother, and whispered a few words in Reggie's ear.

"He said, 'Tell young fella he's a hell of a player and that he's one player away from a title,''' Reggie Rose said, relaying James' message.
James brings this advice knowing what has helped pushed him over the top but also having just picked apart the Bulls.
Really, we should read this as a philosophical declaration. James doesn't mean that Rose and the Bulls just need a solid shooting two-guard to fill out the rotation. He means that Chicago needs to add another star -- a player that can supplement Rose and push
Carlos Boozer
down to third wheel status where he belongs.
James is simply serving as a prosthletizer here: "I know your pain. I have walked in your shoes. Follow me to the Superteam light."
And, of course, there might also be a tinge of: "Look man, you're going to need some help if you expect to beat us."
Hat tip: Pro Basketball Talk