The Cleveland Cavaliers, Detroit Pistons and Minnesota Timberwolves are reportedly in trade talks involving their draft picks. Posted by Ben Golliver.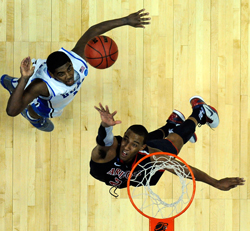 Kyrie Irving or Derrick Williams? Why not both?
ESPN.com reports
that sources say that the Cleveland Cavaliers, who own the No. 1 pick in the 2011 NBA Draft and are expected to draft Irving, a star point guard out of Duke University, are also considering trading for the No. 2 pick. The Cavaliers would then use that pick, which is currently owned by the Minnesota Timberwolves, to select Williams, a star forward from the University of Arizona.
The full trade rumor breaks down as follows:
Detroit Pistons trade the No. 8 pick and Richard Hamilton to Cleveland Cavaliers.
Cleveland Cavaliers trade the No. 4 pick and Detroit's No. 8 pick to Minnesota Timberwolves for the No. 2 pick.
Cleveland uses its $14.6 million trade exception to absorb Hamilton's contract.
The site also reports...
Cleveland would then buy Hamilton out of the $25 million remaining in the last two years on his contract, leaving the veteran shooting guard free to sign with another club as a free agent. Chicago would be one of the likeliest destinations.
Let's take a look at this trade proposal from all angles.
First, for the Cavaliers, this would require a fair bit of capital expenditure in bringing Hamilton on board. He is owed $12.7 million next season and $12.7 in 2012-2013, although only $9 million of that is guaranteed. Hamilton, 33, still has a little fuel left in the tank and badly needs a change of scenery out of Detroit. If the Cavaliers love Derrick Williams, though, paying Hamilton is a reasonable cost to have the opportunity to draft Williams. This move would give the Cavaliers a core of Irving, Williams,
Anderson Varejao
and
J.J. Hickson
to build around, with
Baron Davis
and
Ramon Sessions
also in the fold as rotation players or trade assets. Additional moves would need to be made to clarify that rotation, including the possibility mentioned above of buying out Hamilton, but no doubt that team wins more than the 19 games Cleveland won in 2010-2011 and the group would clearly be on an upward path. Nabbing the top two "sure thing" prospects in a draft would have to be considered a major win.
The Timberwolves would consider this trade because Williams is probably too similar to
Michael Beasley
, who is already in place. Trying to dissect this franchise's logic is always difficult, but if Minnesota prefers a big man like Enes Kanter, he will likely be available at No. 4 and they would be able to add an asset for flopping spots. With the No. 8 selection, the Timberwolves could then address their point guard position if either Brandon Knight or Kemba Walker was still on the board, or they could add a shooter -- something they desperately need -- like Alec Burks or maybe even take a chance on Bismack Biyombo. Like the Cavaliers, the Timberwolves need a lot of help. Does Williams alone make them better in the short term? Would Knight plus Burks or Kanter plus Burks be a better combination? There's a
The Pistons, here, are probably griping that the cost of moving Hamilton's contract is too high, as it would leave them without a first round draft pick. Indeed,
the Detroit Free Press reported
that a source denied the talks were taking place and
Detroit News reported
soon after this rumor broke that the "Pistons wouldn't trade Rip, who's almost becoming an expiring contract w/lockout coming, and get rid of a draft pick." That's half-true at best. Hamilton is owned at least $20 million, the franchise is under new ownership and badly needs to rebuild, and Hamilton made life absolutely miserable all season long for coach John Kuester. The Pistons should be happy to pay for the right to dump him, but obviously they don't want to be left empty handed. There's definitely a way to get Detroit happy with this trade, whether it's sending back a lower pick, a role player or a future draft consideration. Shedding Hamilton's contract and attitude is priceless if Detroit is serious about taking their team in a new direction.