Phoenix Suns point guard Steve Nash says it wouldn't be a big deal if an NBA player revealed himself to be gay. Posted by Ben Golliver.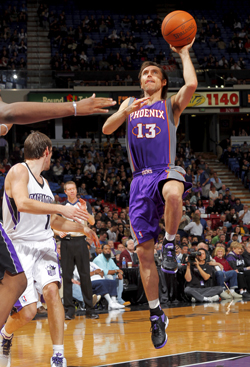 No question about it: The Phoenix Suns have been at the forefront of advocating tolerance toward and acceptance of homosexuals in the past month.
Suns forwards
Grant Hill
and
Jared Dudley
released a public service announcement warning kids against using the word "gay" in a negative way. Suns guard Steve Nash issued
a video testimony
in favor of a New York gay marriage proposition. And, of course, Suns president Rick Welts revealed that he was gay, becoming the first male major professional sports executive to do so, saying that he hoped to serve as an example for younger people.
In
an interview with The New York Times
on Saturday, Nash was asked directly whether the NBA is ready for an openly gay active player.
If a player in the locker room came out, it would come and go quickly, too. I really don't think it's a big issue anymore. I think it would be surprisingly accepted, and a shorter shelf life than maybe we would imagine. I think the time has come when it should happen soon. I think it will be something that won't take on this life of its own. It won't be the O. J. trial.
Nash's comments are similar to
those made recently
by commentator and Hall of Famer Charles Barkley, who said that every NBA player has played with gay teammates and that he cares far more about a player's ability level than a player's sexuality.
Is Nash correct in his analysis?
There is definitely some logic to the "shorter shelf life" line of thinking. Controversies and hot button issues seem to come and go must faster these days than they did even two or three years ago, as the latest rumor or gossip of the day is always pressing fast to make today's news outdated.
It's impossible to know if Nash has accurately gauged the tolerance of the NBA climate until a player does come out. But his honest and straightforward comments, which read as accepting and understanding, only help break the taboo of what has long been seen as a dicey or uncomfortable situation.