Denver Nuggets guard J.R. Smith was reportedly cited in Miami for a scooter ride. Posted by Ben Golliver.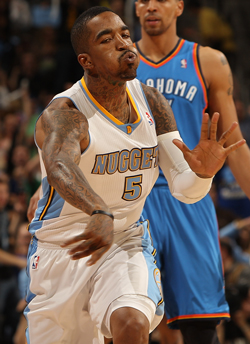 With the NBA Finals beginning on Tuesday between the Miami
Heat
and Dallas
Mavericks
, the NBA universe is converging on South Beach this week.
That includes Denver Nuggets guard J.R. Smith, who reportedly ran afoul of the law before the series even got a chance to get underway.
TMZ.com reports
that Smith was cited over the weekend for riding on a scooter without a license.
J.R. Smith is not going to gain any street cred from this arrest -- he was popped in Miami this weekend for operating a scooter without a valid driver's license... Law enforcement sources tell TMZ Smith, who has played the last five seasons with the Denver Nuggets, was not taken to jail for the offense. We're told Smith signed a notice to appear -- he'll get his court date later.
Of all of Smith's many problems operating motor vehicles, this might be the only one that can be laughed off.
In August 2009,
the Denver Post reported
that Smith's license was suspended through March 2012 due to the fact that he plead guilty to reckless driving when he was
behind the wheel
during an accident in which the passenger in his car was killed, and "additional driving offenses."
Prior to that accident, the Associated Press reported that Smith's driver's license had been suspended
at least five times
.

A post on iblog126.com
on Saturday showed Smith, or a person looking a lot like him, in handcuffs and surrounded by the authorities.
Hat tip: Sham Sports