Mark Jackson is reportedly a finalist to be head coach of the Golden State Warriors. Posted by Ben Golliver.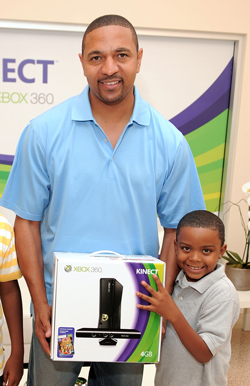 The King of Corny Catchphrases could have a new title in the near future: Golden State Warriors caoch.
CSNBayArea.com reports
that Mark Jackson, the NBA television commentator notorious for screeching "Hand Down, Man Down" and "Mama, there goes that man" is reportedly a finalist to replace Warriors coach Keith Smart, who was
let go in April
.
Dwane Casey, Lawrence Frank and Brian Shaw are now said to be on the Warriors' short list. Put Mark Jackson on that list, too. He appears to be a finalist.

Jackson -- the former New York Knick, Indiana Pacer and current analyst for ESPN and ABC -- is very much being considered for the Golden State job. In fact, Jackson has had two conversations with the Warriors, including one with owner Joe Lacob, according two NBA sources.

That is significant because Lacob was not in on the Warriors' first set of discussions with candidates.
New Warriors owners Joe Lacob and Peter Gruber seem intent on putting their own stamp on the franchise, and Jackson would certainly be a big-name and fairly splashy hire. The team is also said to be seeking a more defensive-oriented approach, and Jackson played for two physical, intimidating teams in the Indiana
Pacers
and New York
Knicks
of the 1990s.
With no head coaching experience, it's difficult to gauge Jackson's style or coaching philosophy. However, he's just 46 years old, seven years removed from his playing days and boasts an All-Star game plus a Finals appearance on his resume. In other words, he should be able to command the respect of -- and connect with -- today's players with ease.
It's been more than a month since Smart was let go and the NBA Draft is less than a month away and the Warriors hold the No. 11 pick. Golden State was reportedly interested in Mike Brown, but he was
snatched up
by the Los Angeles
Lakers
. Whether it's Jackson or someone else, the clock is ticking.