The trainer for the Los Angeles Lakers describes the condition of Kobe Bryant's knee. Posted by Ben Golliver.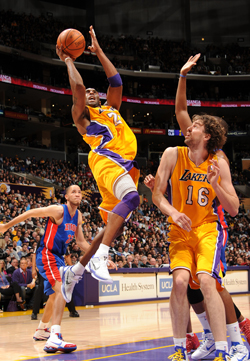 Back in January
, Los Angeles Lakers guard Kobe Bryant sent some shockwaves through the basketball universe when he described his surgically repaired right knee as "almost bone on bone." Those words can be a death sentence for an NBA player's athleticism and future prospects.
In a wide-ranging interview on Lakers.com
, Gary Vitti, longtime trainer for the franchise, provides a bit more depth in his description of the condition of Bryant's knee.
What happens with older players -- and this isn't Kobe's situation – is that tendinitis turns into tendinosis, and the tendon doesn't have the same properties that it used to have. As a result it slows them down, and once you become a step slow in this league, it's very, very difficult to compete.

That's not Kobe's problem, however. His is an articulating cartilage problem. The way I describe that to people is that if you look at the end of chicken bone where it's nice and white, well, that's not bone, it's cartilage. Sort of like a Teflon surface that when two bones come together, that cartilage is there so that bones don't rub on each other. Now, the fact that it's nice and white tells you it doesn't have a good blood flow to it, and that means it cannot heal or regenerate. So, over time, as that cartilage wears away, you end up with osteoarthritis.

Kobe doesn't have an arthritic knee, but he has a knee that has some joint degeneration to it. His issues and his age are such that it eliminates some procedures, like microfracture and that type of things. But he is a candidate for certain other things, and we know all the procedures all around the world that are available to him, and the appropriate decisions will be made, he'll have the best care.
To boil that down: Bryant has little cartilage, the state of the cartilage is problematic, he has joint degeneration but not arthritis and "procedures" have been explored.
A few takeaway points. First of all, kudos to the Lakers for providing as much transparency as possible on the medical condition of their star player. No one is forcing them to do this and it's always better to stress about what you do know rather than stressing about what you're guessing or things that you don't know. For those worried about Bryant's future, you now know exactly where he stands. That's saying a lot.
Second: It's clear that the condition of Bryant's knee is not going to reverse course. The miles have clearly added up, the situation requires constant management and future eventualities have been explored and weighed. None of that is particularly shocking, but it's still a tad depressing, especially for his fans. On the flipside, nothing revealed in the interview suggests that Bryant can't be a major, major contributor to a title contender over the next few years. His knee is problematic, but it's not critical.