Dallas Mavericks guard Jason Terry says he will remove his tattoo of the Larry O'Brien trophy if the Miami Heat win the 2011 NBA Finals.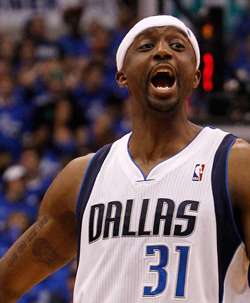 Posted by Ben Golliver.
In case you hadn't heard, Dallas Mavericks guard Jason Terry got a tattoo of the Larry O'Brien Trophy -- the gold orb trophy thing that goes to the team who wins the NBA title -- on the inside of his right bicep. (Pictured to the right.) Terry got inked prior to the season as a way to motivate himself
reports Star-Telegram.com
.
"Everybody laughed and thought it was a joke at the time, but then when they saw me actually get it they were like, 'This boy's serious,'" Terry said. "And our whole conversation was about right now, about us getting to this point and winning it all.
With the Mavericks now poised to face the Miami Heat in the NBA Finals, reality and regret regarding the tattoo is starting to set in for Terry. The obvious question: What happens if the Heat beat the Mavericks? It's going to be pretty awkard to have a tattoo of something you didn't win on your arm forever, right?
Indeed,
Sun-Sentinel.com reported on Sunday
that Terry said he will remove the tattoo should the Mavericks up come short.
"It symbolized the fact we had a realistic shot of getting there." Terry said Sunday before the team departed for Miami. "If I didn't think we had a chance, I definitely wouldn't have put that on there. ... For me, it's something I have to sleep with, something I wake up with. I definitely know it's going to hurt worse if I have to take this thing off."

Yep, if Dallas doesn't win the trophy, look for Terry to get it removed.

"It means it was bad luck." Terry said. "I'm very superstitious."
That would be the single most depressing tattoo removal of all time. Maybe there's a way the artist could just alter it rather than remove it. Maybe a tweak to make it look like the Eiffel Tower or the Leaning Tower of Pisa? Or maybe the Space Needle -- an homage to Terry's hometown of Seattle?
It's a little disappointing Terry is already considering the possibility of removing the tattoo before the Finals has even started. What a perfect opportunity to guarantee a Dallas victory: "This ink isn't going anywhere!" Now that would have been awesome.