Orlando Magic center Dwight Howard says he wants to remain in the city rather than leave during free agency. Posted by Ben Golliver.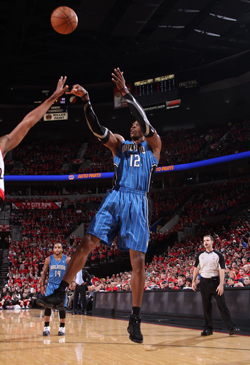 When we last checked in
with Orlando Magic center Dwight Howard, he was slamming the
Orlando Sentinel
on Twitter for its "dumb articles" about his future as a potential free agent. As we noted at the time, until Howard signs an extension with the Magic or is traded, the No. 1 story facing the franchise will be his future.
At a Memorial Day barbecue,
Howard told the Sentinel
that he sees himself remaining a member of the Magic for the forseeable future and he called on the city to support him.
"I want to start my own path and I want people to follow my path and not just follow somebody else's path. I want to have my own path, and I want to start that here in Orlando. But I can't do it alone. Not only do I need the right teammates, but I need the city behind me. That's the only way it's going to get done. We can change this small city that we have — this small market that we have — and we can make it a big market."

"As of right now, I'm a part of the Orlando Magic and I plan to be here," Howard said.

"And I want the Magic to do whatever they can to make sure that we can get our city behind us. That's the only thing that I want to happen: just to have the city behind me and the support of our fans. I never said I was leaving. I never, ever thought about leaving. That's basically where my head is right now. I never said anything to them [the Magic] about what my plans were because that's not what I'm focused on right now."
Howard's manager is also quoted reiterating the thought that Howard doesn't want to leave Orlando.
The Memorial Day comments come after weeks of speculation that Howard might be dealt to the Los Angeles
Lakers
.
That Howard has so forcefully declared these thoughts is nice, and they serve as a great indication for Orlando Magic faithful. But it's an ultimately meaningless stance until he signs a contract extension. Everyone, including Howard, should know that by now.
As for Howard's appeal to fans, it's a bit confusing. He's one of the most recognizable and popular NBA players in the country. His jersey is regularly one of the top 10 best-selling nationwide and he has
more than two million followers on Twitter
. The Magic were also in the
top five in the NBA for home attendance
, clocking in at more than 100% of capacity. Magic fans show up to games, buy your jersey, follow you on social networking sites and attended your impromptu barbecue. What more can they reasonably be expected to do? Nothing. Clearly this is not really a fan issue.
If fan support was really the No. 1 issue for Howard then this situation continues to have a very simple solution: sign the extension (or promise to sign the extension) and move on with life as the most popular person in the city.
Update:
Later Monday night,
ClickOrlando.com reported
that Howard may indeed be working towards the extension.
Magic center Dwight Howard spent the holiday weekend working on signing a two-year extension with the team, sources told Local 6 Sports Director David Pingalore late Monday. Sources said the deal is all but signed by Howard.
More on this story as it develops.