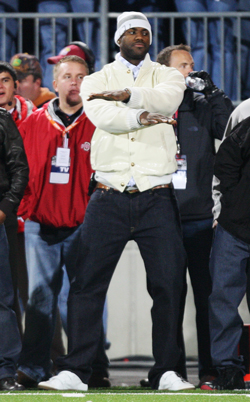 LeBron James comments on the resignation of Jim Tressel at Ohio State. Posted by Matt Moore
MIAMI -- Yes, LeBron James is still being asked about things in Ohio. Following a shootaround Tuesday morning, reporters asked James to comment on the Jim Tressel situation at Ohio State. Yesterday, Tressel
resigned in advance of a new set of allegations
that trace recruiting violations back to 2002 and beyond. James, being from Cleveland, and a known Ohio State fan, was asked about it, because if there is anything tangentially related to James, he will get asked about it. About six times. When asked about Tressel, James was supportive of both the coach and university.
"He's done some great things for that university. It's unfortunate all the allegations and things that have come out in the past year," James said."Everyone in Columbus and Ohio knows how important, how great he was for the team and university.
James, for his part, is pretty supportive of the Sweater Vest and OSU:
"I wish him the best, and the organization. Hopefully the university will come back. It's one of the best universities we have in America."
James understands what it's like to have everyone jump on you, but oddly, Tressel might do more to harm Ohio sports than James did, but Tressel will still be considered a God no matter what and James will still be the devil. That's what a difference a championship can make.
Consider what Eye on College Football's Adam Jacobi wrote Monday about the question of Tressel being "worth it":
The highest of highs. The lowest of lows. The situation's not quite over yet, but what amount of punishment would make Tressel's ten-year tenure not worth it to Ohio State? After all, the entire point of college football is to play for national championships and to beat the living daylights out of your rivals, and Jim Tressel did that in spades. Ohio State's on a streak of seven straight BCS bowl game appearances. Seven. Even if the NCAA hands down a postseason ban of a couple years--and there's not a whole lot about this situation right now that appears to warrant such a ban--is that really enough to put a cloud of shame over the Tressel Era forever? Would no college football fan endure two years' probation for 106-22 in the 10 years prior?
via
Jim Tressel resigns; was his tenure 'worth it'? - CBSSports.com
.
Makes you wonder if LeBron had won the title in 2009 or 2010 if the level of disgust, hatred, and envy would have been the same. We'll never know. But at least James isn't "repping 'The U'" or something.
Read more EOB coverage of the 2011 NBA Finals here. And here's more coverage of just the Miami Heat or Dallas Mavericks.