Heat bench shows up to bust the zone and allow the Heat's superstars to play like only they can. Posted by Matt Moore



MIAMI -- How do you bust a zone? You can knock down perimeter shots, or you can attack over it. The Heat did a little bit of both in Game 1.
Mario Chalmers
poured in 10 huge points off the bench. Eight of those points came against the Dallas zone. Chalmers drove early in the second to draw a shooting foul, then nailed two huge 3-pointers. That kind of attack is what turns a zone defense inside out and renders it torn in half. After the game, Chalmers made it clear the Heat knew they were going to face that zone going in.
"They're going to play a lot of zone, that's who they are. When we're hitting shots like that, we're hard team to stop. And tonight we were able to do that. "
Mike Miller
threw in one of his two 3-pointers against the zone, and it was effectively busted. The
Mavericks
would only play it twice more in the second half, where the Heat were able to turn the game based on the incredible raw athletic talent of
LeBron James
and
Dwyane Wade
.
But it wasn't just the perimeter attack that brought the Mavs' zone down.
Chris Bosh
was a willing passer from the high post and LeBron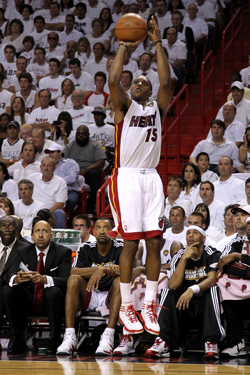 James was his usual self ... an all-around threat. The result was a series of attacks over the zone's defense right under the basket, including what may have been the dagger, a
Udonis Haslem
and-one finish. The lead had been cut to three with six minutes to go before Haslem's bucket, one of those two zone attempts the Mavericks threw out. The Mavs gambled with the zone. The gamble failed.
The zone wasn't completely useless, but the Heat scored 20 points on 18 possessions against the zone. But more importantly, it allowed the Heat to have the Mavs in man defense down the stretch, and to let their superstars play. Chalmers said he had no doubt the two superstars were going to score.
"I'm not surprised by what they do. They're superstars. When a superstar gets going, they're hard to stop."
After the game, Chalmers spoke of the momentum of the perimeter shots he hit, while James talked about the rhythm. The Mavs wound up asking the same thing the
Bulls
and
Celtics
asked before them when faced with the onslaught of James and Wade down the stretch. If the team is going to bust the zone and get back to their strength, how do you defend that?
"What are you going to do?"