Posted by Matt Moore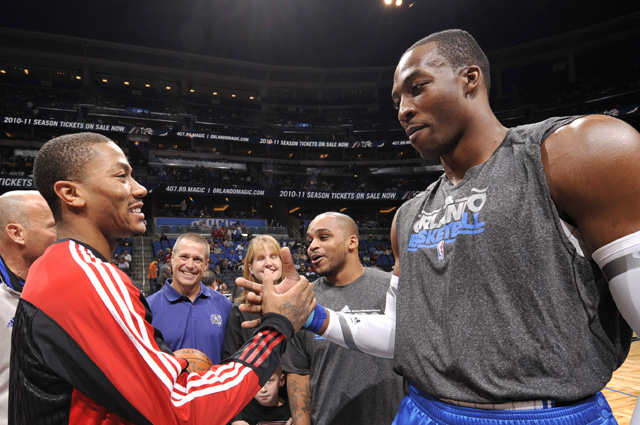 You want to know the real problem with the market inequality in the NBA? It's not the profit-margin differential. (Yes, it is.) It's not the lack of competitive equality. (Yes, it's that, too.) It's not the inability of small markets to sign or keep stars. (Yes, it so much is.) The real problem is that both fans, media, and sometimes team authorities start to believe when they're good that they can just go out and get anyone. Have a good team but need a point guard? "SIGN CP3!" even though he's under contract, the fans cry. Need a wing defender? "We can just go get
Gerald Wallace
, right?" is often the discussion. And in the case of
Dwight Howard
, no matter what he says, every big market and their fanbase will think they can go get him. Including, apparently, the Chicago
Bulls
.
Mike Wilbon of ESPN said last Friday on air that "credible people" in Chicago indicated to him that the Bulls intend to make a play for Dwight Howard. This was prior to
Howard's outburst
saying he loved Orlando and wants to be there and all the other things everyone says on their way out of town as is the new model A.D. (After Decision), and before rumors of a contract extension being worked on came out.
Here's a question. Why would the Bulls think they need to upgrade so badly that they would go after a player who would demand the player cost in trade of Dwight Howard? Didn't they win 60 games this year? Didn't they get the top seed in the East? Weren't they right there in the four games they lost to Miami in the Conference Finals? And wasn't all of that success predicated on a "greater than the sum of its parts" approach to the roster, using timely and well-considered contributions from multiple players as opposed to raw star power?
To acquire Howard, the Bulls would have to give up some combination of
Joakim Noah
,
Luol Deng
, and
Carlos Boozer
, plus some young talent and some picks. It's not an impossible situation, those are good players. The
Magic
would never come near Boozer's contract unless it was laden with a ton of other assets, but those other guys are worth the price, as long as, again, a lot of other nice things are thrown in. It would mean sacrificing the things that made the Bulls so good this year. Their depth down low (even with Asik coming back). Boozer's post offense. And most importantly, Deng's slashing, cutting, perimeter shooting and defense, which was downright phenomenal this season.
And how would Howard work in Chicago? In case you haven't noticed,
Derrick Rose
likes to shoot quite a bit. Those are touches Dwight Howard's not getting, and he feels he needs the ball to be productive. Rose isn't a great alley-oop passer or high lobber out of the pick and roll. Yes, Howard makes it exceptionally easier by being a freak of nature, but there's still a zillion reasons why this wouldn't be a perfect fit.
And what about what the Magic would demand they take back? Orlando's not doing this deal without sending back either
Gilbert Arenas
or
Hedo Turkoglu
's contracts. Those are sinkholes on the Bulls' roster, far more than Boozer, even with them being shorter. Do the Bulls really want to wind up paying the luxury tax just to get the Defensive Player of the Year and an MVP candidate with incredible size, speed, agility and finishing ability?
Okay, yes, probably. But it's still an obstacle.
Then again, anything the Magic would get from the Bulls would be better than what they'll pull in from a potential
Lakers
deal. But this just seems like it's wishful thinking in Chicago, especially with Chicago (just barely) not being the media market L.A. or New York is. But hey, it's been a year since The Decision, Amar'e is in New York, Melo's in New York, and no matter what Howard says, the question won't be closed till he signs that extension in the minds of front office officials or the reporters they talk to in those big cities.
Get ready, kids. The Dwight Out (GET IT?!) is still coming soon.
(HT:
IamaGM.com
)