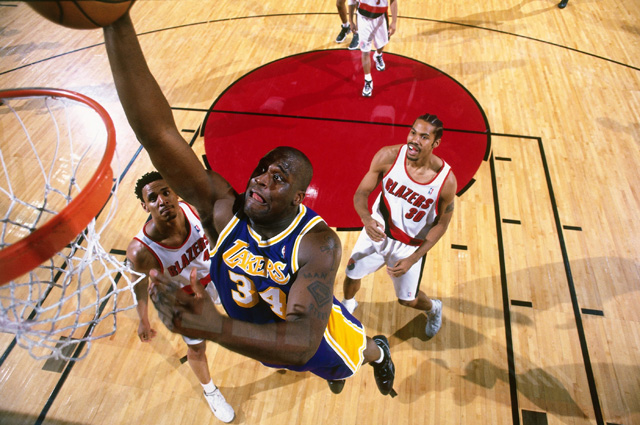 Posted by Matt Moore
Most Dominant Ever.
How does one have the gall to call themselves that? To declare to the world that in the NBA's
long history of great big men
, you are the one that exerts his will the most, that takes some serious guts. And a body big enough to hold them.
Shaquille O'Neal
announced his retirement
Wednesday after a 19-year career that saw him win four NBA titles, the MVP award, three Finals MVP awards, and 15, count 'em 15 All-Star selections. He was the first truly "fun" big guy, the first big to really cross over into popular culture (if you don't count Kareem Abdul-Jabbar's turn in "Airplane"), doing movies, reality shows, and even a 311 video. But it was always his work on the floor that put him at the top of everyone's mind.
O'Neal was the first big to challenge the idea that weight was an offensive hindrance. A literal giant who gained more and more bulk as his career wore on, O'Neal's greatest asset was often his backside. O'Neal's humongous rump was what allowed him to bully his way to the basket during the
Lakers
' early 00's run of championships, paving the way for his startling efficiency. But it wasn't always like that. Back in the day, Shaq was just a kid in Orlando, loving life and dunking on everyone.
Magic Time: Young and in love (with the rim)
O'Neal took the league by storm in 1993. A big man who could run the floor, who moved with speed, he was at his athletic best. His rookie season he averaged 24-14 with 3.5 blocks per game. It was like nothing anyone had seen before. There had been other big men, to be sure. This was the time of Hakeem Olajuwon, who would go on to teach Shaq about the value of footwork later. But in the beginning, he was just a lovable kid, making the most out of being literally the biggest star in the world. And while his agility and athleticism were breathtaking, he was still strong as an ox. Observe:
That's just bananas. We freak out now over
Dwight Howard
dunking on toy rims wearing a cape. O'Neal was physically tearing down the basket as a youngster in Orlando. It was there that O'Neal started to recognize his own potential as a media star as well. He starred in
Blue Chips
with Nick Nolte, which began a long, and often painful for the rest of us, movie career. And he became one of the top players in the game, almost immediately. If it took us a decade to recognize how truly great Olajuwon was, we did not miss the boat with Shaq. You couldn't. If you tried, he'd remind you, often by dunking on your head.
But O'Neal also went through what so many stars today experience, what drove them to the decisions they're so often criticized for. O'Neal lost to Hakeem's
Rockets
and Jordan's
Bulls
. He wanted a bigger stage, and he had no reservations about going out and getting it. So he went to the Lakers in 1997, leaving a franchise in ruin.
There was no outcry nationally, he was not booed everywhere he went, he was not vilified. Nationally, people were just excited the Lakers were relevant again, even if it meant sending Orlando back down to the sewers. And it was in Los Angeles that O'Neal earned that MDE nickname he would later give himself.
Gone Hollywood
Shaq: The Legacy
Stats (All-Time List)
Games: 1,207 (23rd)
Minutes: 41,918 (17th)
Points: 28,596 (5th)
Rebounds: 13,099 (12th)
Blocks: 2,732 (7th)
Accomplishments
First overall pick, 1992 Draft
Rookie of the Year, 1992-93
NBA MVP, 1999-00
Four NBA Championships
15-time NBA All-Star
3-time NBA Finals MVP
2-time NBA Scoring Champion
Career Salary: $292,198,327
29.7 points. 13.6 rebounds. 3.8 assists. 3.0 blocks. That was O'Neal's statline in 2000 when he shot 57 percent from the field and come out with a 30.6 PER. Those are just numbers. But they give an indication of how unstoppable O'Neal was with the Lakers. The later Lakers are reconsidered now as more Kobe's team than they were. It was the big man who set up everything. The weight O'Neal gained only seemed to make him that much harder to guard. You couldn't front him, too tall. You couldn't try and muscle him off, too strong. And if you did manage to keep your position, work him to the middle, and force a shot and not a dunk? He had the drop step hook Howard dreams of in his sleep.
In that Golden Era at the turn of the century, O'Neal changed the course of franchise history, bringing the Lakers back to prominence and all the glory that goes with it. The Lakers were unstoppable in that stretch. It wasn't like the modern Lakers team that fights with top notch opponents and manages to win more than they lose. They were the predominant force of that era and it was mostly because of Shaq. Bryant came on later and did his damage, certainly contributing. But O'Neal at this point was just such a behemoth. There was nothing to be done.
Dominant is phrased so often as just "best." Or "most impressive." The reason O'Neal's terminology of that fits during this era of his career is that he was able to exert his will on anyone. There was no one who could stop him. Certainly not
Erick Dampier
or Shawn Bradley or a Bradley tank. He would park that gigantic butt of his into an opponent, send them staggering back a foot, back in, and either gently slide it over the rim or hammer it down, leaving nothing but a whoosh in his wake.
You could see the body start to slip a bit as O'Neal struggled with weight control. He played 74 games in 2001, and wouldn't hit over 70 games again until 2005. But that stretch of years also defined the best of his career. Three championships, an MVP, and a place among the all-time Laker greats, even if it would be forgotten in the bitterness to come. Oh, yeah, and he did this:
Helping Flash
The meltdown of the 2004 Lakers against the
Pistons
changed everything. Shaq's ego had only gotten bigger with his success.
Kobe Bryant
felt he was the star. Phil Jackson had had enough of all of it, and the team blew up the championship core, sending Shaq to Miami for
Caron Butler
,
Lamar Odom
, and pieces. Shaq joined an up-and-coming
Heat
team that would have likely slowly contended for a title year after year with young talent. But Pat Riley is not a man of patience. He saw the MDE was available. He went out and got him.
In Miami, questions were rampant about how O'Neal and Wade would co-exist, how the two would work together, who the man was. O'Neal responded to the criticisms of his ego and conditioning by playing 73 games, scoring 22 points per game with 10 rebounds. The next year he played only 59, but it was enough to get the Heat into the playoffs, where they made an unlikely run that netted O'Neal his fourth championship. This two-year era (before the physical meltdown in 2007) is overlooked most times in favor of his L.A. days, but O'Neal wasn't just a scorer, defender, and partner for Wade in this championship run. He was a mentor, and a locker room leader. O'Neal showed that you can be bombastic, arrogant even, and still be a leader of men.
This was the last time O'Neal was truly relevant.
Self-exile to the Valley
In 2008, with O'Neal clearly on the decline, unable to stay healthy for any significant stretch, and boasting a roster of athletic talent that could run the floor and keep the ball constantly in motion for Mike D'Antoni's offense, Steve Kerr made a terrible decision. He traded for Shaquille O'Neal, cashing in his biggest bargaining chip,
Shawn Marion
's expiring contract. O'Neal made big claims about winning championships when he's angry for Phoenix, and he was supposed to bring the defense necessary to win a championship alongside
Steve Nash
. Except that it was very much like giving a fish a bicycle. A big, flashy bicycle with one busted wheel.
O'Neal couldn't stay on the floor. The trade was a disaster, and wasted the last years of Steve Nash's prime because of Kerr's bravado. But O'Neal kept developing, staying popular by embracing Twitter and becoming even more of a goof. He was lovable. He was huge. He didn't play much, but he was still awesome. Like when he pulled this out at the 2009 All-Star Game:
Even big men fade away
O'Neal joined Cleveland via trade in 2010. The final piece to the LeBron championship puzzle, part 5,453 (copyright Danny Ferry 2010). But it was simply over. O'Neal couldn't stay healthy -- who can at that age with that amount of wear and tear? -- and he watched with disgust as his teammates were unable to help him or LeBron against Boston. O'Neal was actually one of the most effective players for the Cavs against the
Celtics
, but it wasn't enough. So O'Neal got the idea that if you can't beat 'em, join 'em.
O'Neal joining the Celtics was supposed to change things for his career. It would allow him to win one more than Kobe Bryant, one more than
Tim Duncan
, to go out with five rings and contribute to a team supposedly as tough as he is. But again, the body just couldn't sustain.
It is a harsh reality that this is what happens, as unfortunate as it is unavoidable.
But O'Neal's legacy won't be tarnished by those final years in Cleveland and Boston the way
Allen Iverson
's sad decline hampered his. For one, the four titles help. For another, O'Neal always carried himself with respect, even if he lacked it for others (like, oh, say, Kobe Bryant as in his famous rap). For another, nothing can take away his cultural or performance legacy.
Talk to guys who played against him and they groan trying to explain what it was like to guard him. Talk to kids who watched him destroy everything in his path from backboards to Shawn Bradley to Erick Dampier. Talk to reporters who covered his quotes, analysts who watched his dunks, anyone, everyone knows who Shaq was and what his imprint on the game was.
He walks away now, and though he
might not be the best big man of all time
, given the mark he left on the NBA and how he continues to make his mark on global culture, he's still the Most Dominant Ever.