Shaquille O'Neal's larger than life personality set him apart from the NBA's other great big men. Posted by Ben Golliver.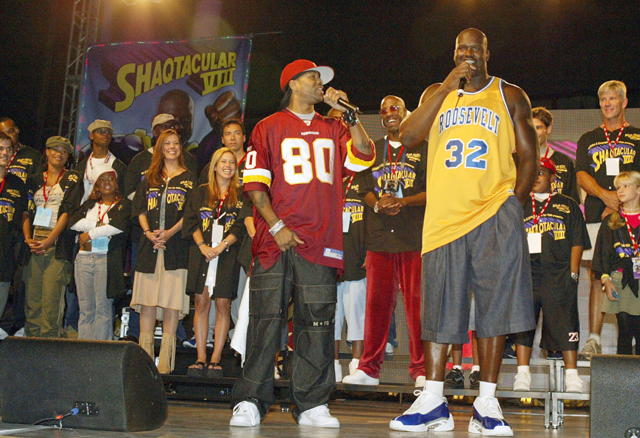 Shaquille O'Neal took the old "You can't coach seven feet" cliché and multiplied it to the nth degree.

America can't reasonably hope to reproduce – let alone coach – a player with his combination of talent, height, weight, strength, quickness and athleticism again. A sure-fire first ballot Hall of Famers and four-time NBA champion, O'Neal's successes have dominated the NBA for nearly two decades. As a physical specimen, O'Neal stands as a once-ever product. The closest approximation we've seen so far – Dwight Howard – would have been overpowered by O'Neal in his prime. The next top American big man in the pipeline – Jared Sullinger – doesn't belong in the same sentence or weight class as O'Neal; The undersized potential No. 1 pick in the 2012 NBA Draft would need to crane his neck just like the rest of us to get a good view of the XXL No. 1 overall pick in the 1992 Draft.
There are bits and pieces of all of the league's premier big men in O'Neal. His dominance on offense was matched only by Wilt Chamberlain. The shattered backboards were Daryl Dawkins redux. His rebounding drew comparisons to Moses Malone, his shot-blocking instincts to Bill Russell. His jump hook wasn't nearly as deadly as Kareem Abdul-Jabbar's skyhook but he made it work. Ditto his footwork and short turnarounds, loosely and somewhat hopelessly co-opted from Hakeem Olajuwon. O'Neal has even carried the philanthropic torch passed down by David Robinson.
Shaq: The Legacy
Stats (All-Time List)
Games: 1,207 (23rd)
Minutes: 41,918 (17th)
Points: 28,596 (5th)
Rebounds: 13,099 (12th)
Blocks: 2,732 (7th)
Accomplishments
First overall pick, 1992 Draft
Rookie of the Year, 1992-93
NBA MVP, 1999-00
Four NBA Championships
15-time NBA All-Star
3-time NBA Finals MVP
2-time NBA Scoring Champion
Career Salary: $292,198,327
What O'Neal possessed that none of those big men had was a natural, authentic, instantaneous bond with both basketball media and fans. His goofy, oversized, larger-than-life persona made him the center of the NBA's attention for more than a decade. It's quite possible that personality and his off-court exploits will come to define him even more than his on-court production.
When it comes to pure marketability, O'Neal was the heir to Michael Jordan, but with a key difference. "Be Like Mike" was the ultimate one-way road. Jordan was omnipresent and yet, oddly, inaccessible. The enduring image of Jordan is his competitive stare. He was an old-style hero in the Mt. Rushmore sense.
O'Neal was not that. He cast himself, against all odds, as the everyman. O'Neal never cared if he was carefully packaged or not. He helped turn the phrase "self-promoter" from a slur into a full-fledged business plan. He was who he was – whether you, or his critics, liked it or not. He rapped poorly on his own terms, appeared in terrible movies on his own terms, "sold out" to Hollywood and the Los Angeles Lakers on his own terms, shacked up with a reality TV star on his own terms and, through all of it, made himself appear totally accessible, on his own terms.
He was able to accomplish this because he developed a unique brand of fearlessness: He was never afraid of being the punchline because he was always in on the joke. O'Neal wasn't burdened with the world that faced Russell. He never took himself too seriously or criticism too personally, like Abdul-Jabbar. He learned to deal with the attention his size and skill attracted without turning on the media or turning into a recluse, like so many big men that came before him. He defied every stereotype constructed for star NBA centers up to that point: he was too cuddly to be a freak; too happy to be a monster.
In doing so, O'Neal established himself as a super-sized superhero, paving the way for modern athletes to re-think their interactions with fans. An early adopter of Twitter, O'Neal, true to form, announced his retirement in a video appeal directly to his fans which, conveniently, helped get the video delivery service into headlines across the country. A shrewd marketer but one, always, without pretense.
If Jordan was the greatest manufactured NBA commodity of all time, O'Neal stands as the league's most effective self-promoter. Jordan's aura sold you his shoes, underwear and sports drink; Shaq sold himself … and whatever products go along with him. Legions of professional athletes – across all sports – have followed his path. It feels like there's no turning back.
It's a credit to O'Neal's personality that we never tired of it. Despite the injury-plagued seasons, his weight problems, the endless string of nicknames –The Big Aristotle, Diesel, Shaq Fu, Big Daddy – and the regrettable forays into reality television, we can't get enough, even after all these years.
O'Neal may be leaving the NBA but he's not about to disappear from the planet. He will make sure of that. Shaq isn't going anywhere whether we like it or not.