Spanish point guard Ricky Rubio reportedly has agreed to join the Minnesota Timberwolves. Posted by Ben Golliver.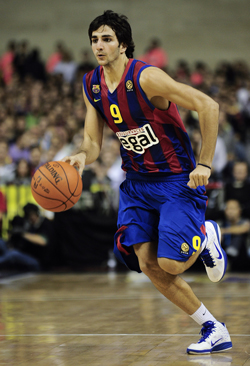 Is the long wait for Ricky Rubio finally over?
A person who requested anonymity and with knowledge of the agreement confirmed to the Associated Press on Wednesday that the Spanish point guard will play in the NBA next season.
KFAN reported
Wednesday night that the Timberwolves "have secured deal with Ricky Rubio to join team next season."
Yahoo! Sports reported
soon after that Rubio has reached an agreement to join the Timberwolves, although the site noted that it's possible he did not yet sign a contract.
Ricky Rubio has reached an agreement with Minnesota to join the Timberwolves next season. There was a Tuesday deadline to sign under rookie scale of current CBA, and no announcement's expected until after Rubio's Euro playoffs end.

It's unclear whether Rubio signed agreement on Tuesday, or merely promised to exercise his Spanish buyout on July 1 and then sign with Minnesota.
The Associated Press confirmed the agreement
.
A person with knowledge of the agreement confirmed to The Associated Press on Wednesday that the Spanish point guard will play in the NBA next season. The person requested anonymity because Rubio is still playing for his team in the Euroleague playoffs.
CBSSports.com's Ken Berger also confirmed the report
and noted that "Rubio agreed to a $1.2 million buyout with FC Barcelona, $500,000 of which is paid by Minnesota under NBA rules." He points out that Rubio's agreement "met NBA operational deadline to fall under current rookie scale."
Berger also notes that the news is going over big in the Land of 10,000 Lakes. The Rubio signing is a "huge shot in the arm," a source tells him.
The Star-Tribune reported
that the agreement is "signed, a done deal to meet the current CBA deadline. Not an agreement to sign later" and that Rubio "will be introduced at a Timberwolves news conference after the Spanish league finals end later this month."
Finally,
SI.com reported
: "If there is a prolonged lockout, it's likely Rubio will continue to play for Barcelona, a plan the Timberwolves have endorsed."
Rubio's journey to Minnesota has been a long one. The team has worked for nearly two years to convince him to leave FC Barcelona to join the Timberwolves. Rubio's age, a hefty buyout on his contract and Minnesota's status as an NBA backwater and also-ran are thought to have been factors delaying his decision to come to the States. Timberwolves president David Kahn has taken enormous flak for his decision to draft Rubio given the player's initial reluctance to come to the NBA.
Still just 20 years old, Rubio brings loads of potential to the table, despite the fact that he's had a somewhat disappointing season. Rubio has elite passing instincts and ball-handling ability and has logged minutes for the Spanish National Team, including during the 2008 Olympics. During the 2010-2011 season,
Rubio has averaged
5.3 points and 4.4 assists in 23 minutes per game during ACB league play, Spain's top division.
Assuming an agreement is completed and that he's not traded, Rubio pencils in as Minnesota's starting point guard next season. Minnesota has two other point guards on the roster for next season: veteran
Luke Ridnour
and third year player
Jonny Flynn
. Drafted one spot behind Rubio in 2009, Flynn has struggled with injury and grasping coach Kurt Rambis' triangle offense and has failed to materialize as a franchise point guard. Ridnour is a very capable back-up guard.