Posted by Royce Young
There's no doubt that the drafting of
Ricky Rubio
and his unwillingness to come play for the
Timberwolves
has been quite the sore spot for general manager David Kahn. It's been embarrassing.
But with
word that Rubio will sign with the Wolves
and play in the NBA next season -- if there is a season -- there's reason to be excited. The long nightmare is over and finally the Spanish floppy-haired savior is coming. You're psyched, right
Kevin Love
?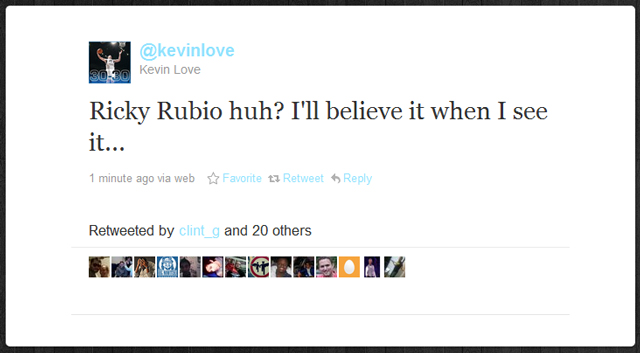 Love's next two tweets said, "Just thinking about pick and rolls... goodnight" and then "Pick...N...Rolls." That sort of suggests Love wasn't entirely serious with his original tweet. Still though, with as sensitive as that situation has been and as embarrassing as it's been for the organization, that's a pretty wild thing for the face of the franchise to say.
"I'll believe it when I see it" is pretty much what everyone is saying because of the way the Rubio situation has been handled, but it reeks of a lack of faith in management to actually get it done. Almost like Love is saying, "Yeah right, like this front office finally got this done." Not exactly a ringing endorsement. But again, let me say: He could just be making a silly. Hard to really decipher in a tweet.
Which means we might be reading into this too much but still, Love's reaction isn't saying, "Woo! Rubio! Championship!" Maybe he's not nearly as excited about the supposed Euro "phenom" as some are. I guess it has been two years. That new car smell has pretty much worn off. The hype machine has died down.
I'm sort of like Love. When I see Rubio actually in a Minnesota Timberwolves uniform, then I'll believe this is true. That should tell you the kind of mess this has been.