Orlando Magic center Dwight Howard denies a report that he's in contract extension negotiations. Posted by Ben Golliver.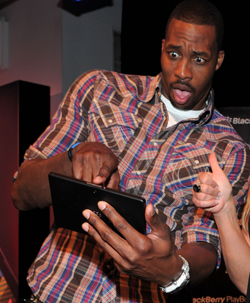 Earlier this week
, we noted that Orlando Magic center Dwight Howard hosted a Memorial Day barbecue, at which he expressed a desire to remain a member of the team for the foreseeable future.
"I want to start my own path and I want people to follow my path and not just follow somebody else's path," Howard said. "I want to have my own path, and I want to start that here in Orlando. But I can't do it alone."
Shortly after he made those comments, a report surfaced indicating that Howard was involved in talks about a two-year contract extension with the Magic.
On Thursday
, the
Orlando Sentinel
reports that Howard, speaking from Alabama, said that the contract extension talks report was inaccurate.
"There's no truth to that," Howard told reporters in Birmingham, Ala., where he was on hand to help tornado victims.

Howard shot down the report and said, "The biggest thing right now is everybody understands I have one more year left. I'm keeping my options open, but there's no other place I'd rather be than Orlando. I want them to understand that. "

"But, at the same time, I do want to win, make sure everything is in line: our team, just everything from top to bottom, everybody is reaching for a championship. It can't be me and a couple other guys. It's gotta be the whole team — everybody on the staff. It's the same goal: the championship attitude. As of right now, I don't plan to be anywhere else besides Orlando," he said.
Howard clearly has entered the "apply soft public pressure to management" stage of the negotiating session, and his frustration is understandable. Despite a constant wave of trades by Otis Smith, the Magic have been sliding backwards since their trip to the 2009 NBA Finals.
Given Orland's cap situation, though, he might be pushing the wrong button. Orlando has clearly spent enough to be a winner and it's one of the few teams in the NBA that has won at least 50 games in a row for four straight seasons. Howard, like all of the league's other All-Stars, is feeling a sense of urgency being applied by the magnificent run to the Finals by the Miami
Heat
. Stars in his position can reasonably feel isolated and frustrated when they look up and down their roster and don't see another true star, while the Heat have three perennial All-Stars and are shaping up to be the Eastern Conference favorite for years to come.
As noted earlier this week, Howard's commitment to the city of Orlando is a nice thing to say, but it's ultimately meaninless until the extension has been signed. Howard has apparently clarified that that won't be happening any time soon.