The Phoenix Suns and Washington Wizards are reportedly interested in trading up for Derrick Williams. Posted by Ben Golliver.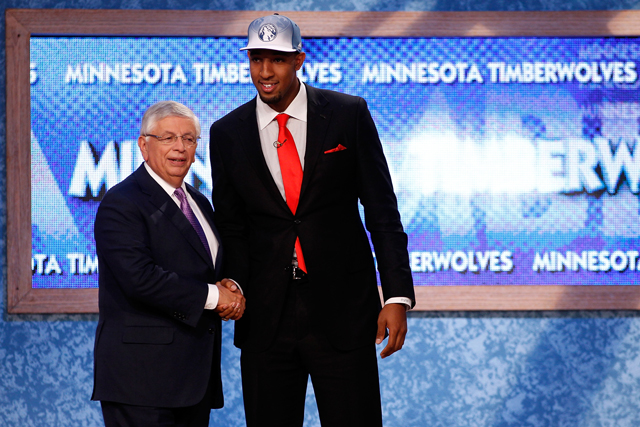 The 2011 NBA Draft is widely regarded as a two-player class. While Duke University point guard Kyrie Irving is a lock to go to the Cleveland
Cavaliers
with the No. 1 overall pick, speculation continues to circle around the No. 2 pick, held by the Minnesota
Timberwolves
.
University of Arizona forward Derrick Williams is the clear favorite to be drafted second overall but his fit is questionable in Minnesota. A combo-forward, Williams shares the scoring ability and versatility of Timberwolves forward
Michael Beasley
and doesn't really address Minnesota's biggest needs: help in the backcourt and in the middle.
Last week, we noted a report
that the Cavaliers were interested in trading up for the No. 2 selection.
On Thursday,
DraftExpress.com reported
that the Phoenix Suns and Washington Wizards are also in the mix, nothing that the two teams "have been the most active teams trying to trade up for Derrick Williams." The site also reported that the Timberwolves are seeking a "veteran big man" in return.
For reference: The Wizards hold the No. 6 selection and the Suns hold the No. 13 selection.
Which big men do these teams have to offer up?
Phoenix has three serviceable bigs in its rotation:
Marcin Gortat
,
Robin Lopez
and
Channing Frye
. Gortat, acquired from the Orlando
Magic
, is under contract at a reasonable rate through 2013-2014. He's not untouchable, but talented, mobile seven-footers are hard to come by. Lopez is not spectacular, but he's still on his rookei deal and he's a serviceable reserve. Frye is a perimter-oriented big man who might not be an ideal fit next to
Kevin Love
in Minnesota.
The Wizards have promising center
JaVale McGee
in the middle as well as troubled forward
Andray Blatche
. McGee is still on his rookie deal and is talented enough to hold on to tightly during the team's rebuilding process. Moving Blatche would be a much easier call for Washington as he's a true head case but he doesn't have the size to find many minutes with Love in place.
If I'm Washington, Williams' starpower isn't enough for me to give up on McGee just yet. Sure the hole on the wing is massive, but there will be talented guards/wings available at No. 6 -- Kawhi Leonard, Alec Burks, Klay Thompson -- and replacing McGee would be a nightmare. The Wizards were bottom five in rebound rate last season; imagining them without McGee's eight boards a game would be an even bigger disaster.
From Phoenix's standpoint, Williams is very, very tempting. The team needs a new face of the franchise and point guard
Steve Nash
has been involved in trade rumors for months, if not years at this point. Williams has a local tie-in, big-time scoring potential and an exciting game. He's intent on playing small forward, though, so that could mean parting ways with
Grant Hill
, using some unorthodox line-ups or shipping out
Jared Dudley
. It would be tough to find time for all three of them if you're intent on making Williams your franchise guy.
Parting with Gortat, Frye or Lopez shouldn't be a deal-breaker in this trade scenario. If it's Gortat, acquiring some other asset in return would be necessary, as his value as a player is greater than jumping up 10 spots in a weak draft. Frye and Lopez, though, are who they are and should certainly be on the table. In Frye's case, he was signed to a long-term contract that carries him through 2014-2015. Getting out of that salary commitment might not be the worst thing in the world if Phoenix does intend to undergo a rebuilding process.
A trade like this makes all sorts of sense from Minnesota's standpoint. If they could add either Gortat or Lopez plus pick up Burks or Thompson at No. 13 that's a very good return on the rights to the No. 2 pick. Getting McGee plus Leonard or Burks for the rights to Williams would be even better.
Deals like these, though, are rarely that simple. The room to negotiate is gigantic, as teams look to dump salaries, extract future picks and on and on. Will the type of trades rumored here come to fruition? Who knows. Should something like this trade rumor happen? Definitely, especially from Minnesota's standpoint.